Mo McRae: From 'Gridiron Gang' to 'Sons of Anarchy'
Mo McRae knows how to handle himself amongst heavyweights. He's gone from standing next to Dwayne "The Rock" Johnson in the film Gridiron Gang to joining the One-Niners as Tyler on FX's Sons of Anarchy. But don't let the filmography fool you: he's only a tough guy on-screen - off of it, he's a pleasure to be around. So who's the real Mo McRae?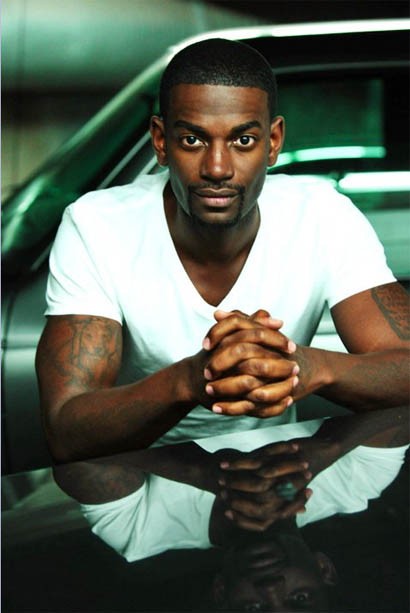 His story began at a young age. "It started in high school," he said of when he developed his interest in acting. "I played basketball in high school and pretty serious about that [but] we had a pretty good drama department at my high school and the teacher was like 'I really think you have something.'" Persuaded to give drama a shot, once he got involved Mo knew he'd found something worth pursuing.
Once he became a professional actor, he built his resume with guest appearances on TV shows like NYPD Blue, Boston Public, The Shield, CSI: Crime Scene Investigation and Cold Case. "I look for characters that I could bring multiple layers to," he explained. "That I feel are really, really multi-dimensional. Sometimes characters are written for types as opposed to real people."
That search brought him to the 2006 film Gridiron Gang, loosely based on the story of the 1990 Kilpatrick Mustangs football team from juvenile detention facility Camp Kilpatrick in Mo's native Los Angeles. Mo landed the role of Leon Hayes, one of the young men on the football team put together by Sean Porter, played by action star Dwayne "The Rock" Johnson. Other cast members included Alvin "Xzibit" Joiner and Friday Night Lights actress Jurnee Smollett. Aside from being his 'big break,' the film still has a special place in Mo's heart.
"I get stopped about that role a lot but I do wish more people saw it," he said. "The story was powerful, it was inspirational, it had a really strong message." He added that the film had appeal beyond just football fans: "Any kind of film or TV show can make people that have no connection to what they're doing connect to it on a human level."
After Gridiron Gang, Mo appeared in the cult classic The Onion Movie, guest starred on TNT's critically acclaimed crime drama Southland and had a multiple-episode role on Detroit 1-8-7 as Pooch before Sons of Anarchy came calling. In SOA, he plays Tyler, a member of the Oakland-based One-Niners street gang. (It's worth noting that the One-Niners also appeared inThe Shield, although Mo's character on that series wasn't a member.)
Tyler has a part to play in each of SOA's next two episodes, but there's very little Mo can say about what that part actually is. He can, however, speak on what he loves about working on the high-octane drama: "All the layers in the way that it was written," he said. "You'll have people having a conversation about one thing [that] just creates a hundred other motives. There's really so much more. I really enjoyed that - being in a scene and discussing something but really the scene isn't about what we're discussing."
Writing is something that Mo has a particular affinity for, as he is also a writer and producer. He produced and starred in the film The Fall, which screened at the 2008 Cannes Film Festival, and went on to write another feature script with Veronica Mars and Felicity writer Harry Winer. "After becoming an actor, being on set more, I really began to be interested in writing," he explained. "[Harry] just really took me under his wing." In addition to his acting work, Mo is currently developing another project for television.
He added that writing has "one hundred percent" changed the way that he regards scripts that he's given as an actor. "I would advise every actor to spend some time looking at writing, directing, editing and producing, just to understand it," he said. "Looking at those elements has changed the way I look at a script. It's not about my character. My character is one color in the painting. My character is never the entire painting."
Mo is bringing that team-first attitude to a pair of highly anticipated projects next year: the Lee Daniels film The Butler, amongst an ensemble cast that includes Forest Whitaker, Terrence Howard, Jane Fonda, Vanessa Redgrave, and Liev Schreiber. He and Schreiber will then reteam for the Showtime original series Ray Donovan, by Southland creator Ann Biderman, in which Schreiber stars as the title character and Mo has the role of Deonte Williams.
Looking toward the future, "I would like to be given an opportunity to carry a film. To really carry a film, something with a strong, compelling story," he said. But there's something even more important than his career for Mo: his family. "One thing that's a major driving force in my career is my daughter," he added. "My daughter is my world. My choices are always with her in mind."
That's the real Mo McRae: a hard-working, team-oriented, multi-talented family man - who just happens to be very good at playing tough.
You can keep up with Mo on Twitter (@TheRealMoMcRae). His guest stint on Sons of Anarchy continues tonight on FX.
For more from Brittany Frederick, visit Digital Airwaves and follow me on Twitter (@tvbrittanyf).
(c)2012 Brittany Frederick/Digital Airwaves. Appears at Starpulse with permission. All rights reserved. No reproduction permitted.