Misty May-Treanor Leaves 'Dancing With The Stars;' Brooke Burke Scores Big

Everyone got misty-eyed for
Misty May-Treanor
this week on
Dancing With The Stars
as she unexpectedly ended her run in this season's competition. During rehearsal Friday, Misty and partner Maksim Chmerkovskiy were practicing their jive when she tore her Achilles tendon in her ankle. She told the audience that she thought she had hit the judges' podium, but in fact it was the sound of her tendon snapping. She was rushed to the hospital, and after thorough evaluation she cannot dance again anytime soon. She was sure to be a top competitor (she was definitely a favorite of mine) and it is a real shame to see her leave so early; everyone wishes her the best of luck with her recovery.
As for the other dancers, they were to perform either the jive or the Viennese waltz.
Susan Lucci
started the show off by performing the jive. Her partner, Tony Dovolani, took her to Radio City Music Hall in New York to visit the Rockettes for inspiration for their dance. But, as inspired as Susan was, it didn't show. Her dance was stiff and lacked musicality. She was not very energetic in her movements either. Judge
Carrie Ann Inaba
described the performance as "timid and bashful." Susan received three 7's for a lackluster total score of 21.
Lance Bass
and Lacey Schwimmer were not up to their usual tricks this week. They performed the first Viennese waltz of the night and were determined to get higher than a 6 from Judge Len Goodman. The pair went to a nursing home to practice their performance, gauging it to "Len's generation." Bruno Tonioli said this new feel to their dancing looked "labored" and "lost its sparkle" from previous routines. Carrie Ann thought it was good that Lance danced just as much as Lacey did. But Len, even though the dance was catered to him, still wasn't pleased. He said Lance's posture was poor and some other nonsensical gibberish. He did concede to the fact that the dance had more content than prior performances. Overall Lance got a score of 22 comprised of two 7's and an 8 from Carrie Ann.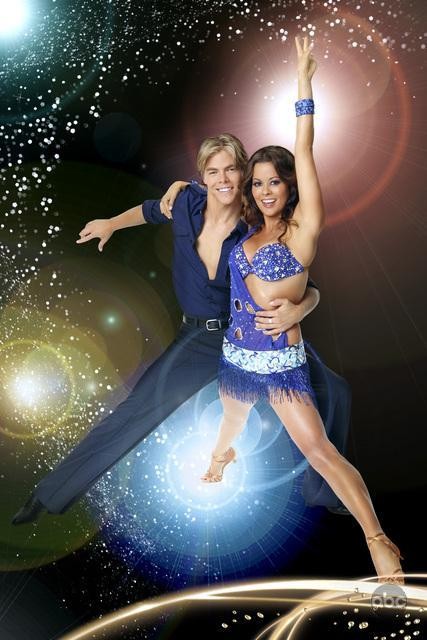 Maurice Greene
and Cheryl Burke were up next on the ballroom floor thoroughly trained and prepared to perform the jive. Maurice got frustrated during practice this week so Cheryl took him through jump rope and tire drills to enhance his agility for the dance. He definitely had more fun and more exuberance on the floor than Susan Lucci. Len said this was Maurice's best dance and called it "bright, fast and lovely." Bruno and Carrie Ann agreed by commenting that the dance was full of energy and fun. Maurice scored three eights, for his highest score yet, a 24.
Chef
Rocco DiSpirito
has been chastised by the judges for lacking in musicality. His partner, Karina Smirnoff, decided that it would help Rocco unleash his musicality if he was blindfolded and just went with the beat he felt. Rocco felt this technique really helped him and prevented nerves from coming to the surface. He performed an elementally good Viennese waltz. I think this guy is just precious. He seems to be trying so hard. He probably shouldn't win, but I think he should last longer than some of the other contenders. The judges feel that same way. Carrie Ann referred to Rocco as "a likable puppy dog" and Len even commented that his waltz was "pretty good." Bruno is the one that had the most trouble getting into Rocco's performance. He said he needed to break away from bad habits because he looked like a "lump of mash potatoes." Harsh words from Bruno, but Rocco still managed to get a higher score than previous weeks. Rocco received two 7's and a 6 from Bruno giving him a grand total of 20 and placing him second to last on the leader board.
Warren Sapp
, along with partner Kym Johnson, has melted the judges' hearts. His paso doble last week was the favorite dance and this week was not an exception to his already stellar record. Having not been chosen to perform the rumba last week, Warren had to tap into this romantic and softer side for the first time this season while performing the Viennese waltz. He felt good showing off his softer side and it worked like a charm. The judges were very pleased with his work on the dance floor. Bruno said he was impressed at how versatile he is for such a large guy. Len said he was "giving skinny people a run for their money" and Carrie Ann said she was "developing a crush on Warren." Those rave reviews gave him a score of 25 which put him in second place on the leader board.
Cody Linley
and Julianne Hough had the good opportunity to perform the energetic jive and showoff their youthful vibrancies. Cody also got to take Julianne to
Miley Cyrus
' birthday party in Disney World…if that's not a good way to get voters, I don't know what is. But, the judges felt he didn't keep his energy up and was too repetitive in his performance. He spent too much time playing with Julianne's leg and not enough time dancing. In choreography's defense, it was in the song lyrically. The judges basically scolded him though, like the kid that he is, and said "you have the talent, now use it!" Despite criticism, Cody received his same score from weeks past, a 21.
Toni Braxton
felt this week it was her turn to step out of the box and spice up her performance. Her rendition of the Viennese waltz was interesting, but the judges called it a "risk." Len did not enjoy her routine and claimed that "if it's not broke, don't fix it." The judges had been scoring Toni relatively high, but apparently that was going to change this time around. Bruno told Toni not to "overproduce" her dances and to just show off what she already has. At least Carrie Ann liked it claiming it was simply a matter of taste. With mixed reviews, Toni still got a decent score of a 22 placing her in the middle of the pack.
And then there's
Cloris Leachman
, who always has some kind of spice to her routine. Her partner Corky Ballas said he needed to "build up [Cloris'] stamina" in order to actually perform the jive. He also said he just made up choreography around what Cloris was able to do. That doesn't sound like a good method, but so far (unfortunately) it's kept her in the game. Her rendition of the jive, if in fact you can call it that, left the judges speechless. Bruno said it was "beyond comprehension" and Carrie Ann said there wasn't enough time in the show to tell her all that was technically wrong with the performance - ouch! Cloris received her staple score of 16. Corky tried to stay positive and say that at least they are consistent. Cloris, of course, was again at the bottom of the leader board for this round of performances.
And lastly,
Brooke Burke
and Derek Hough took the stage to perform the Viennese waltz to close out the evening. Apparently the two had been fighting about Brooke not remembering the steps to the dance and it caused some heated tension. Derek and Brooke both felt, however, that this fighting and combative nature brought them closer together as partners and helped them be even stronger on the dance floor - not that they need the help. Brooke got the first ten of the season (and from Len no less!) and received the highest score yet, a 28. The judges' think she is incredible and possibly the best dancer of any season. I'd have to politely disagree because I simply adored Apollo and Julianne a few seasons back. But, who knows?
Only time will tell who comes out on top, but so far, it's looking like Brooke and Warren have a good chance of making it to the finals and winning that snazzy mirror-ball trophy.
Story by
Beth Wickman
Starpulse contributing writer