Missy Peregrym Talks Changes Ahead in Season 4 of 'Rookie Blue'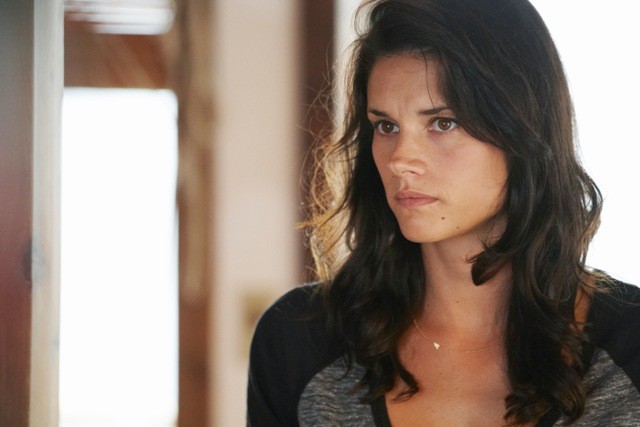 TV's most entertaining cop drama is back! ABC starts airing the fourth season of Rookie Blue tonight, picking up not far from where it left the characters of 15 Division last summer. BFTV caught up with series star Missy Peregrym, who plays Officer Andy McNally, to ask how Andy has been since viewers saw her departing for an undercover operation, and if there's hope that Andy might get back together with ex-flame Sam Swarek.
When the audience reconnects with Andy in tonight's episode, "I think she feels pretty good about where she's at in her life," Missy told us. "She's been undercover for six months with Nick [Collins, played by Peter Mooney], and they've been posing as a couple this whole time; I think they work extremely well together. I think she's a bit tired of being undercover, but I think she feels like she's kinda really got it together. She gets back to the division and I think she thought she was just going to walk back into how she left things."
Unfortunately, that's not the case. Two new characters have arrived - rookie Chloe Price (Priscilla Faia), who has a romantic history with one of the officers at 15 Division, and senior officer Mario Cruz (Rachael Ancheril), an ex-SWAT cop with an explosive secret. Given that the team at 15 Division has always been close-knit, and the cast of Rookie Blue is an ensemble with perfect chemistry, we asked Missy what it was like to add new personnel to the equation.
"We filmed out of order," she told us with a laugh. "We shot the third episode first, where we'd already had the introduction into the show with these characters. I'm like 'How did we meet? What is this? How is this happening?' I think we all felt kind of vulnerable. We wanted to make sure we've played that right.
"But Rachael and Priscilla are fantastic women. I think they bring so much to our show. I think it's exactly what our show needed. I'm really grateful that they are part of it. They're also just good people. We just have solid human beings coming together every day collaborating on this show."
The biggest difference upon Andy's return is what's happened with her former training officer and ex-boyfriend, Sam Swarek (played by Ben Bass). He's moved on with his life, both personally and professionally, becoming the second character to make Detective and now working alongside Traci Nash (Enuka Okuma). As a result, he has a new dynamic with Andy, too.
"They still work together, obviously, but it's different," Missy told us. "We're not partners anymore in the same way that we used to be. He's a detective, which I think kind of annoys me. He used to be the guy that was constantly breaking the rules, [and] now that he's a detective, he's going by the book. It causes some friction. He was burned that I left, so I'm kinda surprised by that, because I feel like I'm the one that should be upset."
And what about their personal relationship? While the actress still believes in Sam and Andy's romantic connection, from what she told us, they've got awhile to go before sparks might fly again.
"There's an undeniable chemistry. You can't turn that off. It will always be there no matter what," she explained. "but that doesn't make a relationship work. You can really love somebody, but it takes work to do that. You have to work through real issues to stay together as a couple, and that's something Sam chose not to do last year."
Between that, the introductions of Chloe and Marlo, and the happenings in the lives of her other colleagues, there's a lot of overhaul for Andy to have to deal with. However, as much as her character hates surprises, Missy is enjoying the turmoil. "I'm like an outsider coming in now. I'm having to find my place again," she said. "You kind of see Andy come into her own. She's calling the shots more. She's not waiting for someone to tell her what to do all the time. I'm partnering with people that are more equal to me."
"I definitely enjoy where Andy's going," she continued. "It's definitely exciting to portray. I like that everybody else is kind of moving on and doing things and I am too just in a personal way. I really enjoy the journey that I'm on right now. I'm constantly growing with her and I like the pace."
Rookie Blue starts its fourth season tonight at 10 PM ET/PT on ABC. You can live-tweet along with Missy (@mperegrym) during the premiere. Season three is also now available on DVD.
(c)2013 Brittany Frederick. Appears at Starpulse with permission. All rights reserved. No reproduction permitted. Visit my official website and follow me on Twitter at @tvbrittanyf.