Missy Peregrym: Still Proud To Be 'Rookie Blue'
In just over a week (June 23), ABC's Canadian import Rookie Blue returns for its second season - so it's also the perfect time to get the dish from Missy Peregrym, who leads the cast as would-be supercop Andy McNally. Missy dropped by recently to talk about where Andy is headed in season two, the impact the role has had on her life, and who her heroes are.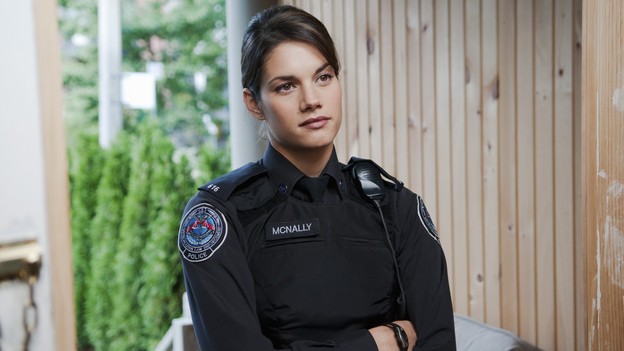 You can also check out my recent interview with Missy's Rookie Blue costar Enuka Okuma.
The rookies now have their first year under their belts - so what will be happening with Andy in season two, now that she's no longer technically a newbie?
We just don't have training officers anymore. The consequences and the stakes are higher. We still answer to people but there's a fine line between feeling too comfortable and actually venturing out on your own. We're the ones taking initiative. The theme is [that] a little bit of knowledge can be a very dangerous thing.
You and your fellow castmates also have that first season behind you. What does it feel like to move into season two? Is there anything you learned from season one that's informing the second time around?
You feel a little bit more confident, even as actors playing cops. None of us had done that before, so we all felt like rookies anyway. I still suck at handcuffs. I feel bad for Enuka because she has to take the guy away and the handcuffs are dangling.
Nothing prepares us for what we see in season two. The situations are way more extreme. We find ourselves on the fire department side of things in one episode. We see the bomb squad.
Andy's hero is her father. Who are some of your heroes?
I really, really admire my parents so much, for how they raised me. They're some of the best human beings I know. The people that matter to me the most are the people that are in my life. That's who I really learn from and it's always a very personal kind of connection. I was fascinated with Princess Diana. I loved how she dealt with everything that she was up against.

Talk about getting into this role. Your co-star Enuka Okuma was telling me that you had exactly one day of police training.
It was two days, but really, they give you so much information. Because it's not specific to a situation, you're never really going to remember it. We only get one script so I'm doing all this training and I'm all, "I don't know how much of this I'm going to use." I definitely felt like a bad-ass a little bit, but the truth is I'm still not.
Has playing this part changed how you look at cops in real life? Do you look at things around you differently?
Definitely. It humanizes them for me a little bit. It wasn't just this person in a uniform; it was actually a human being. We have all these expectations on them to handle everything so perfectly but everybody started as a civilian. Everyone has hard times and good times. I really do have a lot of respect for them.
I've been through the border and they ask me about the characters. I was stunned. I thought it was a joke at first, but at the same time, I didn't want to screw up that question. 
There are so many cop shows on television. What do you think makes yours different?
It has a lighter undertone to it. It's not really a procedural as much as it is a character drama. Everyone compared us to Grey's Anatomy last year and I think they're correct in saying that. Our job is the backdrop for these characters. It's more about how we deal with that, how it affects our relationships, how it affects our view of life. There's a lot of crazy situations that can be brought up from that.

Given that you're dealing sometimes with heavy subject matter, what's the mood like on set?
I think we're all really weird. We all laugh a lot. We're constantly being told to shut up. We're constantly sabotaging each other. We get along really well. I think you can see that. Definitely in the second season some of that comes out.
You've been a part of shows with some real cult followings (Heroes, Reaper). What role do you get recognized for most?
It depends. I get recognized for Reaper in the UK. I was in Costa Rica and got recognized for Heroes. In Canada, it's Rookie Blue. People also think that I'm in the Twilight series because of Kristen Stewart.
What future aspirations do you have? Any dream roles or upcoming projects?
I'm really inspired by playing strong women. Anything that I can be a part of like that, to be a role model for young women.

My thanks to Missy Peregrym for this interview! Don't forget to check her out when ABC rolls out season two of Rookie Blue - June 23 at 10 PM ET/PT.