Miss New York Mallory Hagan Crowned 2013 Miss America (See Photos)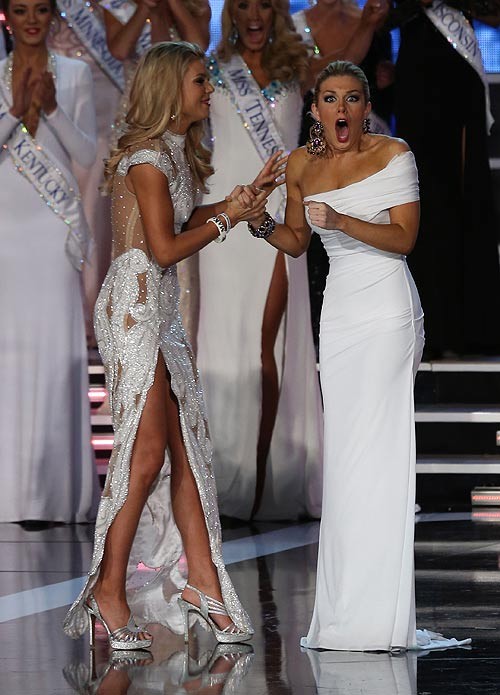 Miss New York, Mallory Hytes Hagan was crowned Miss America 2013 Saturday night at the Planet Hollywood Resort & Casino in Las Vegas.

The 23-year-old Brooklyn native landed this year's crown after beating 52 other hopefuls, and was visibly shocked that she won, beating runner-up Ali Rogers from South Carolina. Miss Oklahoma, Alicia Clifton, came in third.

Hagan's talent portion of the pageant was her tap dancing routine, in which she performed to James Brown's "Get Up".

During the interview portion of the competition Good Morning America weatherman Sam Champion brought up the hot topic of gun control, asking Mallory if putting an armed security guard in every school is a good idea.

"I don't think the proper way to fight violence is with violence. I think the proper way is to educate people on guns and the ways we can use them properly," Mallory answered. "We can lock them up, we can have gun safety classes, we can have a longer waiting period."

Mallory is a student at the Fashion Institute of Technology, where she'll be able to apply the $50,000 scholarship from Amway that goes along with her new title.

Her Miss America duties for the next year include traveling roughly 20,000 miles a month speaking about child sexual abuse and acting as the official ambassador of goodwill for Children's Miracle Network Hospitals. She'll also be the spokesperson for Amway, Joseph Ribkoff Inc., and Catalina Swimwear.

"Hello America! I look forward to sharing my journey this year with you. Thank you, thank you...thank you!!" she tweeted after the pageant.

The crown was passed to Mallory by Miss America 2012 Laura Kaeppeler; and she becomes the first Miss New York to win Miss America since Vanessa Williams did it in 1984.

First and second runner-up contestants Rogers and Clifton will receive $25,000 and $20,000 scholarships, respectively.

If viewers had been given the opportunity to name the champion, Miss Montana Alexis Wineman, would have won. Alexis topped ABC's America's Choice online competition where viewers picked their favorite contestant prior to the broadcast.