Miss America Mallory Hagan Hosts The Hub's 'My Little Pony' Coronation Concert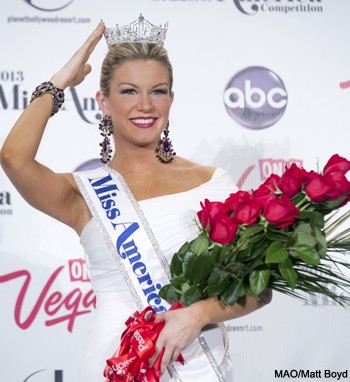 The Hub is putting on an amazing event in support of Childrens Hospital Los Angeles this afternoon, February 9. The My Little Pony Coronation Concert is a "live musical event, interactive screening and sing-along" themed around the TV network's hit animated series, My Little Pony: Friendship Is Magic.
The event will be hosted by the reigning Miss America, Mallory Hagan, who joined BFTV yesterday to talk about the festivities and how she's working on behalf of children nationwide.
"It's going to be a lot of fun," she said. "My Little Pony: Friendship Is Magic really represents the ideals that Miss America is about. It's about friendship, camaraderie and hard work, as it is for My Little Pony. Being Miss America takes a lot of dedication, drive and ambition, so I thought it was a perfect match for us."
The Coronation Concert is centered around MLP protagonist Twilight Sparkle, who will be crowned as a princess in recognition of her good deeds. In addition to Hagan, Olympic gold medalist Carmelita Jeter will also be on hand as a special guest.
"It's also for the Childrens Hospital, and it's about teaching kids that hard work and dedication will be rewarded, and that's what's happening with Twilight Sparkle," said Hagan, whose favorite TV shows in her youth included Mighty Morphin Power Rangers and Care Bears.
These days, she's busy traveling the country, doing her best to enrich the lives of children across the nation. "The job of Miss America is just that," she explained. "I live on the road. I travel roughly 20,000 miles a month, usually moving cities every two days. I'm doing everything from being an ambassador for Children's Miracle Network hospitals, to giving speeches and lectures on my personal platform, which is child sexual abuse prevention.
"This year, we're really focusing a lot on STEM (science, technology, engineering and mathematics) education. We really want to encourage children, and especially young girls, to become involved in those related career fields."
Hagan has a busy schedule ahead of her in 2013, including meetings with the Secretary of Education and the Brooklyn District Attorney, as well as working with Erin Merryn to encourage the passage of Erin's Law, legislation which aims to increase education on child abuse. You can follow Hagan's blog at missamerica.org and her Twitter at @MissAmerica.
As she partners with The Hub on Saturday to support young ladies, Hagan also spoke about the inspirational women in her life. "The first would absolutely be my mother. She is such a strong, independent women and has overcome many obstacles. and is the reason I chose my personal platform," she said, "and then the second would have to be my best friend Ashley. She's also overcome a lot of hardships in her family. Sometimes when I feel like I may be having a bad day, I just look to Ashley and the things that she's overcome."
"I will consider my reign a success if people's minds have been changed when my reign is over," she continued, adding that the best thing about being Miss America is "just having the ability to influence kids and young adults in a way that's positive. The time that you meet that little girl or boy, it may be the only time in their life that they ever meet Miss America. It's knowing that what you do and what you say to them has an impact. This organization is about so much more than what happens on stage."
The Coronation Concert event takes place at 1 PM today, February 9 at the Brentwood Theatre in Los Angeles. The theatre is located inside the VA Campus at 11301 Wilshire Blvd. Complimentary self-parking is provided. You can also check out the My Little Pony promo below. The series airs a marathon on February 16 beginning at 3 AM ET/6 AM PT, also hosted by Hagan.
For more from Brittany Frederick, visit my official website and follow me on Twitter (@tvbrittanyf).
(c)2013 Brittany Frederick. Appears at Starpulse with permission. All rights reserved. No reproduction permitted.