Miss Alabama Katherine Webb: I Don't See Why Any Woman Wouldn't Be Flattered By Brent Musburger's Comments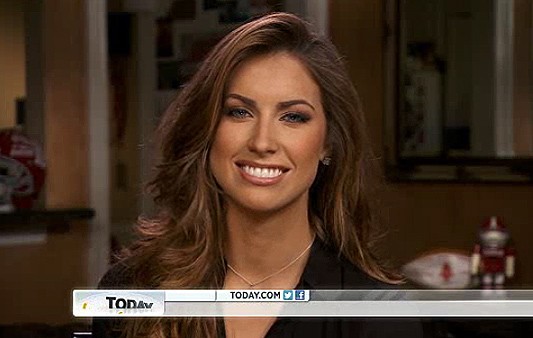 Miss Alabama Katherine Webb, who became national news after Monday night's NCAA National Championship game between Notre Dame and Alabama, says she's flattered and not the least bit offended by comments made by sportscaster Brent Musburger during the live broadcast of the big game.

When ESPN cameras honed in on the 23-year-old Chick-fil-A training director and girlfriend of Alabama quarterback AJ McCarron, Musburger gushed over her beauty to millions of viewers.

"Well, I tell you, you quarterbacks," he said, "you get all the good-looking women! What a beautiful woman."

"Wow, AJ's doing some things right down in Tuscaloosa," added analyst Kirk Herbstreit.

"So if you're a youngster in Alabama," Musburger added, "start getting the football out and throw it around the backyard with pops."

ESPN released an apology statement on Tuesday, saying that despite the interesting storyline about Webb and McCarron -- she's a graduate of Auburn University, Alabama's chief football rival -- Musburger's commentary "went too far."

But Webb told The Today Show's Matt Lauer on Wednesday morning that she wasn't offended by Musburger's comments at all.

"I think the media has been really unfair to him. I think that if he would have said something along the lines... that we were hot or sexy or made any derogatory statements like that, I think that would have been a little bit different," she said. "But the fact that he said we were beautiful and gorgeous, I don't see why any woman wouldn't be flattered by that."

"I don't take any offense to it at all," she added.

Katherine says that ESPN's apology was unnecessary before humbly telling Lauer that she's "shocked" how the story took off and overshadowed the game itself.

"I think that we need to draw back our attention to who the real winners are, and that's the Alabama football team," she says. "They spent so long getting ready for this season and they won their second, back to back, National Championship and that's such an accomplishment."
Katherine's father, Alan Webb, even says everyone needs to lay off Musburger.
"On one hand, you can look at it as being kind of like the dirty old man, but I'm used to this and I think if you really look into what that he was trying to say, he was trying to be complimentary, and I think they need to give Brent a break," he told Atlanta's FOX 5.