Miranda Lambert's Pistol Annies 'Begged' To Be On 'Hunger Games' Soundtrack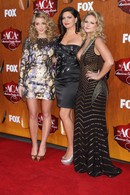 Miranda Lambert's all-girl group Pistol Annies begged and pleaded to be included in The Hunger Games soundtrack - because they were so inspired by the film's heroine.

The Hell On Heels singers wrote Run Daddy Run, named after a line in Suzanne Collins' hit novel, in honor of Katniss Everdeen, who is played by Jennifer Lawrence in the big screen adaptation.

And Lambert reveals she wouldn't take no for an answer when it came to persuading producer T-Bone Burnett to include the song in the soundtrack.

She tells The Hollywood Reporter, "We didn't get the call to write for the movie or anything, we didn't even know. We actually just wrote the song... kind of begged our way through. T-Bone loved it and produced our song. We're so proud."

Singer Ashley Monroe admits she and her Pistol Annies bandmates each felt a personal connection to the survival story, which centers around the fatherless hunter Katniss.

She explains, "We all fell in love with it. (We) all could relate to it in different ways. (Angaleena Presley) was a coal miner's daughter, (Miranda) is a bow hunter, as Katniss was, and my dad died at an early age, I kind of took care of my mom. We were so inspired by the book and the story that it told, so we wrote (the song) and forced our way onto the soundtrack. It was our goal."