Miranda Lambert Takes Another Shot At Chris Brown: 'Where I Come From, Beating Up On A Woman Is Never Okay' (Video)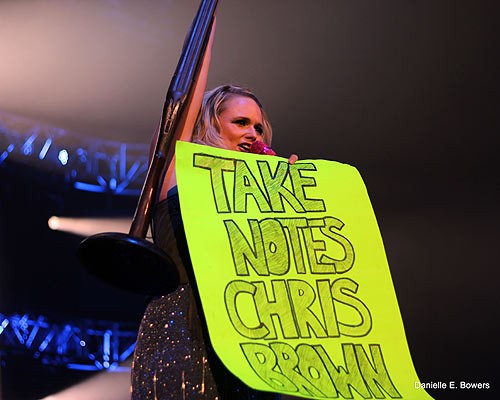 Country star Miranda Lambert stepped up her feud with Chris Brown on Thursday by taking aim at the R&B singer again during her show in Massachusetts.

Lambert took to Twitter.com on Monday to express her outrage at Brown's performances at the Grammy Awards on the third anniversary of his infamous fight with ex-girlfriend Rihanna.

Defiant Brown, who picked up a Best R&B Album Grammy, turned on Lambert and others on Tuesday via Twitter when he wrote, "Hate all u (you) want becuz (because) I got a Grammy now! That's the ultimate f**k off! I'm back so watch my back as I walk away from all this negativity."

Lambert hit back by telling her followers she also has a Grammy, and she used her concert at the University of Massachusetts on Thursday night to take aim at Brown once again.

Before singing her track Gunpowder and Lead, about a woman preparing to kill her abusive husband, she pulled out a poster with handwritten letters reading, "Take Notes Chris Brown", according to E! Online.

She told the crowd, "Get a good picture now, put it on Twitter. I've been in a world of hurt with Chris Brown fans lately... but see, I just have to speak my mind because where I come from, beating up on a woman is never Okay."