Miranda Lambert: 'Chris Brown Had No Place At The Grammys'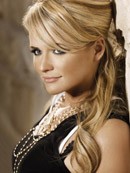 Country star Miranda Lambert was far from impressed with Chris Brown's performances at Sunday's Grammy Awards, because she feels the R&B singer had no place at the ceremony - on the third anniversary of his assault on ex-girlfriend Rihanna.

The Kiss Kiss hit-maker and his then-partner Rihanna pulled out of planned appearances at the 2009 Grammys after becoming embroiled in a violent bust-up on the eve of music's big night. He was later arrested, charged with assault, sentenced to hard labor and ordered to stay away from the Umbrella hit-maker.

The restraining order against his ex, who also performed at Sunday's Grammys, has since been relaxed, but Brown is still on probation for his attack.

The singer made a big return to the prestigious awards show on Sunday as he took to the stage to sing his new track Turn Up The Music and take part in a dance tribute to late Soul Train creator Don Cornelius. He also won the night's Best R&B Album prize.

Neil Portnow, the president of The Recording Academy, the organizing body behind the Grammys, has already answered critics and defended his decision to invite Brown back to the ceremony, insisting the singer deserved the recognition for his successful F.A.M.E. album - but Lambert disagrees.
In a series of Twitter.com posts on Monday, she wrote, "Chris Brown twice? I don't get it. He beat on a girl... Not cool that we act like that didn't happen."

Lambert, whose parents ran a shelter for abused women when she was growing up, even suggested Brown listen to her country song about a woman preparing to murder her abusive husband upon his release from jail - to put him "back in his place" after his night at the Grammys.

She later appeared to backtrack on her outrage, posting, "As for my tweets 'it's just one clowns (sic) opinion'. I love music and that's what it's all about."