Miranda Lambert Cancels Shows In Wake Of Father-In-Law's Death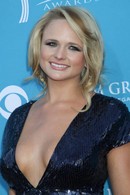 Country star Miranda Lambert has canceled her upcoming weekend shows so she can be by her husband Blake Shelton's side as he mourns the loss of his father.

The "Honey Bee" hitmaker's dad Dick Shelton passed away in Oklahoma on Tuesday, prompting him to pull out of a number of scheduled performances in the coming days.

And now Lambert has axed her weekend gigs in Kentucky and North Carolina to show support for her husband.

She says, "Thank you to the fans for all the support and prayers. This is a really difficult time for our family and the most important thing is being together."

Shelton will resume his Well Lit & Amplified Tour on January 26.