Miranda Lambert & Blake Shelton set Wedding Date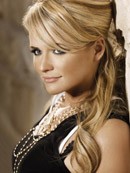 Country couple Blake Shelton and Miranda Lambert will become husband and wife on May 14.

Lambert let the wedding date slip as part of her new interview with Cowboys & Indians magazine.

The couple has been dating for six years and became engaged in 2010.

In the Cowboys & Indians article, Lambert reveals Shelton is someone she has come to respect and admire.

She says, "He's somebody I can look up to as a mentor, but he's also somebody I can vent to, because he's like my other half.

"He's been through everything that I've been through... Our trailer flipped over one time on the highway, and it was a really big deal. When I told him about it, he was like, 'Oh my God, that happened to me, too, two years ago'. So, he always has some advice or a solution about whatever happens."

And the "White Liar" singer also details his marriage proposal - after he had asked Lambert's father for his daughter's hand.

She adds, "They sat down together and had a conversation. I don't know how it went, though I presume it went well. That was really important to me... I think every man should ask the girl's dad for her hand."