Miranda Kerr To Teach Free Yoga Class For Eco Challenge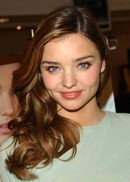 Supermodel Miranda Kerr has offered to teach a free yoga class if 500 fans join her in a challenge to save the environment.

Orlando Bloom's wife has signed up as a global ambassador for Earth Hour 2012, which encourages the public to switch off their lights for 60 minutes on March 31st to conserve energy and encourage sustainability.

The Victoria's Secret beauty and eco warrior has also promised to hold a free yoga class if 500 people upload videos onto YouTube.com stating how they plan to help save the planet.

She says, "I hope my first challenge inspires my friends, family and fans to make their own promise for the environment. This year I've made the commitment to reduce my footprint by offsetting all of my travel."

"If we all adopt simple practices like recycling, switching to energy efficient lighting or paperless banking then we can make a difference together."