Miranda Kerr Named Ambassador Of Qantas Airlines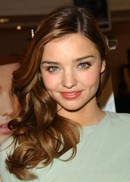 Australian supermodel Miranda Kerr has been named the new ambassador of her homeland's Qantas airline.

The catwalk queen, who is married to Hollywood hunk Orlando Bloom, joins the likes of John Travolta, racing driver Mark Webber and athlete Cathy Freeman as a spokesperson for the brand.
 
Qantas bosses threw the beauty a glittering bash in Los Angeles to announce her new role on Thursday.
 
Travolta, who is a trained pilot, praised his new co-ambassador, saying, "She takes your breath away. She adds a whole other level of excitement and glamor to the airline."
 
Kerr added, "It is very exciting. Qantas is such an iconic Australian brand and to be an ambassador for them is such an honor. I always fly Qantas, so this (role) is really exciting, what a privilege."