Miranda Kerr Makes A Sexy Wonder Woman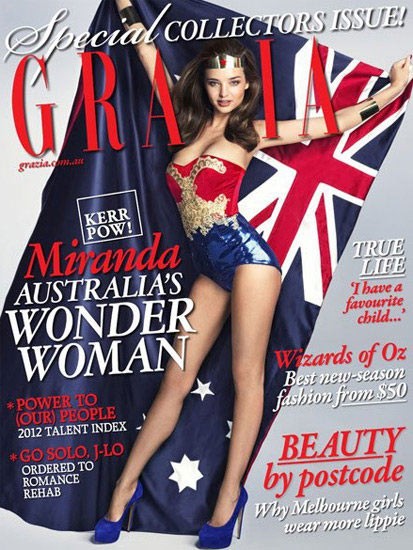 Victoria's Secret supermodel Miranda Kerr isn't starring as the new Wonder Woman, but she looks like a natural for the part!

The sexy Australian dons the Amazon Princess' red, white and blue costume for the February 2012 Australia Day issue of Grazia magazine. The costume was created by designer Alex Perry.

The 28-year-old Mrs. Orlando Bloom was also filmed wearing nothing but the Australian flag in a behind-the-scenes video (watch it below) of the photo shoot. Orlando's one lucky guy!

"...Wonder Woman is a globally recognized icon and not just anyone could pull it off," says Thelma McQuillan, the magazine's fashion director. "But Miranda is an Australian icon herself.

"She's the star who, time and time again, our readers say they most admire; a businesswoman, a wife, a mum. She is our wonder woman. And she has the presence to pull this recreation off."

Last fall Wonder Woman was revived as a new TV series by creator David E. Kelley and starred Adrianne Palicki in the titular role; but the series was scrapped after the pilot episode was turned down by several networks. It didn't help that early shots of a new WW costume design was panned by fans & critics alike, prompting changes that were too little, too late as the series seemed doomed from the start.