Miranda Kerr Flaunts Her Fit Figure In Self Magazine, Gushes About Her Positive Attitude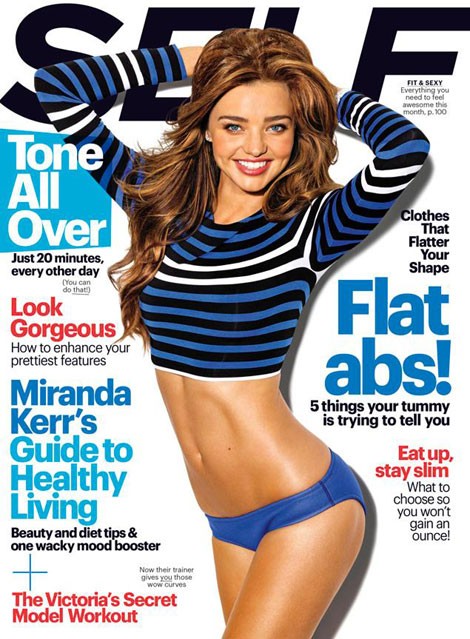 Miranda Kerr isn't letting her break up with Orlando Bloom bring her down. The Victoria's Secret model covers the new issue of Self magazine and says: "Happiness is a choice we make. You can wake up and say, 'Oh, I can't believe it's so cold,' or you can say, 'Oh, wow, this is a great opportunity for me to try out my new sweater.'
"No one can be consistently positive, but why not make the choice that makes you feel better rather than the one that drags you down?"
The model looks stunning on the December cover in blue bikini bottoms and a matching striped crop top that shows off her flat abs.
She told the magazine that she has a special trick for pumping herself up when she's not at her best. "If I'm having a challenging moment, I jump for joy. Literally. After a minute, I feel better, and after a few minutes, I'm really happy," she explained. "Everything else just drops off. It gets me out of my head and into my body, and it makes me feel present."
Kerr and Bloom confirmed in October that they had been separated for several months. They have a son, Flynn, 2, together. The pair both insist the split was amicable and they will remain friends.
The model repeats a special mantra to herself in order to remain positive. "'I am a being of light and love, and I radiate that to everyone I meet.' It helps me keep things joyful," she revealed.
Kerr is currently in Tokyo promoting her recent Elle Japan magazine cover. On Tuesday she celebrated the cover at the Gallery of Horyuji Treasures of the Tokyo National Museum with designer Michael Kors.
She looked fab in a monochromatic dress with side cut-outs.