Miranda Cosgrove Leaning Towards USC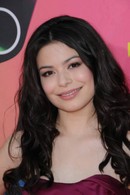 Actress Miranda Cosgrove is set to join the ranks of the stars who are furthering their education after revealing she's leaning towards attending the University of Southern California beginning later this year.

The iCarly star has offers to attend both USC and New York University and she's close to making her decision, confessing the Los Angeles school appears to be the favorite.

She explains, "I deferred for a year since I'm doing my show and it's really getting down to the point where I have to make the decision.

"My dad loves USC because he went there and my parents don't really want me to go to New York."

And she's hoping she'll be able to balance a student life with work on her TV hit: "I could still do the show, especially if I went to USC."

Whether she goes to USC or NYU, the School of Rock star doesn't want to be pampered at the university, telling Access Hollywood Live, "I want the dorm life... and I want a random roommate - that's half the fun, right?"