Minnie Driver Named Teaching Ambassador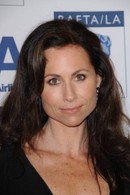 British actress Minnie Driver has signed up as an ambassador for a teaching scheme to promote the importance of schooling.

The Good Will Hunting star is the new spokesperson for the Pearson Teaching Awards and she hosted the annual honors ceremony in London last month.

The cause is close to Driver, who also serves as an Arts Education Advocate for President Barack Obama's Champions for Change Program, and she's already giving her son Henry, three, music lessons.

She tells Britain's Radio Times, "I'll talk about it until I'm blue in the face. Teachers need to be celebrated and valued. I had magical teachers growing up in England. It was life-changing. I bought (Henry) a ukulele and he can play three chords already."