Mindy McCready Attacks Law Officials For Stand-Off On TV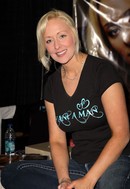 Troubled country star Mindy McCready has attacked the U.S. officials who took her son away from her following a stand-off at a home in Arkansas a week ago in a new TV interview.

The singer, who is accused of parental abduction and faces criminal charges after taking her five-year-old son Zander from his father's home after a visitation, has taped a TV spot with ABC News anchorwoman Andrea Canning in an effort to explain her actions.

McCready's ex-boyfriend Bill McKnight filed a missing persons report when his son was not returned home in Florida and McCready was ordered to take the kid back by Thursday night last week.

She defied the court order and U.S. Marshalls had to track her down to a home in Arkansas, where mother and child were reportedly found huddling together in a closet.

Speaking to newswoman Canning in the interview, which will air in America on Friday, McCready says, "(I did) not ever think that me taking my own child, that I carried for nine months, that I gave birth to in the hospital by myself would ever be breaking the law. What I did was to protect my child, and there's not a person in the world that's going to tell me that that is wrong.

"I know there are rules that are written down that we're supposed to follow, and guidelines that we're supposed to follow, but there's a difference between right and wrong, and right and wrong in my opinion should come first, always."

And she took aim at the law officials who took her son from her over their alleged heavy-handed approach, adding, "He (son) was screaming, 'Please don't touch me, please don't touch me, please don't touch my mommy. Please, leave me alone, I want to be with my mommy.'"

David Rahbany, Chief Deputy U.S. Marshall for the Eastern District of Arkansas, tells ABC News her recollection of the events is all wrong, explaining, "There was no forced entry made. No battering ram."