Mindy Kaling On 'The Mindy Project,' 'The Office' And Nora Ephron
Mindy Kaling was one of the standout employees of Dunder Mifflin on The Office. She's got her own show now, which she created and in which she stars. The Mindy Project is Kaling's version of a romantic comedy, where her character is obsessed with romantic comedies.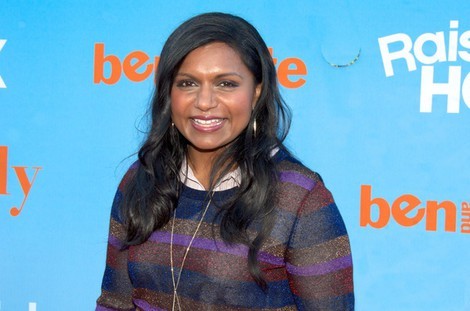 "I think the character really wants to picture herself as the protagonist in a romantic comedy," Kaling told the Television Critics Association this summer. "Zoe [Jarman]'s character, she'll like, 'Okay. She'll be my, like, sidekick receptionist, and she's be this,' and where the comedy is, is how that doesn't match up to what she's actually able to do or accomplish. One of the things that's funny about Chris [Messina]'s character is, like, Chris is, I can say inarguably, a handsome looking guy, and his character on the show doesn't want to be part of that world. I think that's kind of what's  a lot of what's funny on the show. He's sort of resisting it."
The Mindy on The Mindy Project grew up watching Nora Ephron and Hugh Grant movies. The real Kaling can relate.
"I'm someone who loves romance," she said. "I always have loved it. Most people who grew up as nerds, as I was surprisingly, have loved romance. As a comedy writer, it's like on The Office, so much of the show is kind of disguising your true feelings and your romantic feelings because it was a documentary, a mock documentary, so I think in a lot of ways, it's like a reaction to that, because I just wanted to explore love and romance, but with people who are legitimately busy and have busy lives. Especially with women my age, too, I think if you have a career, you're thinking, like, 'When is this other side of my life going to click into place?'"
Kaling wrote and shot the pilot before Ephron's passing. As of this summer Kaling had not decided whether or not to address that. "Nora's passing was so devastating for us, and especially the writing staff, because she was such an amazing writer and obviously such an inspiration for the show. But because the character isn't a comedy writer and a writer as much, it's like we want to pay homage to her career by the character's love for romantic comedy, but I don't necessarily know that it would be mentioning her in a really overt way. It almost seems like  we put her up on such a pedestal.  We don't want to seem like we're cheapening her impact or anything."
The Mindy Project premieres tonight on Fox.