Mindy Kaling Defends ELLE Magazine, Cover 'Made Me Feel Glamorous & Cool'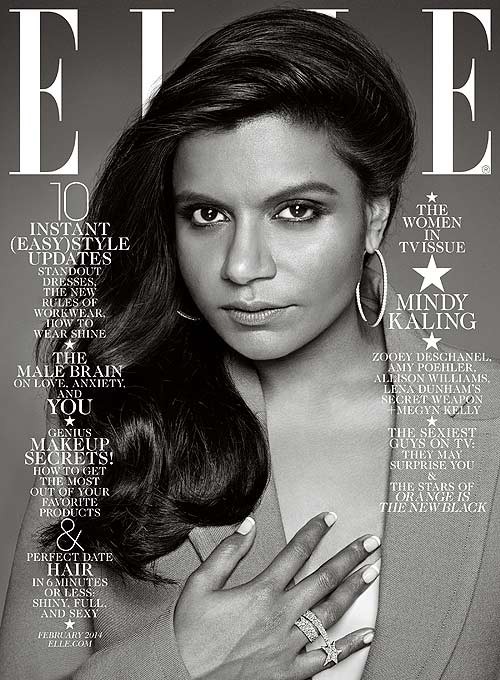 ELLE magazine is set to release its fourth annual Women in TV issue next week (on newsstands Jan. 14), with four different covers featuring New Girl star Zooey Deschanel, Girls' Allison Williams, Parks and Recreation's Amy Poehler and The Mindy Project's Mindy Kaling.

According to a press release from ELLE, the magazine celebrates "the smartest, funniest, small-screen stars we all love," but the magazine is catching a lot of flak over Kaling's cover, which shows her in more of a close up than the other three stars, whose figures are part of the focus of their cover shots, and many think it's because of her curvier body. It also doesn't help that of the four cover girls she's the only one who isn't white and her photo is the only one in black-and-white.

Now, for the second time in just over three months, the magazine is defending itself from its accusers.

"When we released our February Women in Television covers yesterday, we heard from many of our readers how thrilled they were that four of their favorite actresses were being featured in ELLE. Some fans, however, were disappointed that Mindy Kaling's cover was differently staged," a post on the magazine's website read.
"The magazine's official response was simple: 'Mindy looks sexy, beautiful and chic. We think it is a striking and sophisticated cover and are thrilled to celebrate her in our Women in TV Issue.'"
After ELLE basically told everyone to get over it (seriously people!), Kaling took to her twitter on Tuesday to put the issue to rest once and for all.
"I love my @ELLEmagazine cover. It made me feel glamorous & cool. And if anyone wants to see more of my body, go on thirteen dates with me," she tweeted.

Back in October the magazine came under fire for another multi-cover issue that featured plus-size funnygirl Melissa McCarthy hiding her curves with a long overcoat.

"There's no denying that funny ladies are having a major moment, so devoting our Women in TV Issue to the women making comedy was a must," ELLE Editor-in-Chief Robbie Myers said in a press release. "The covers we shot with Zooey Deschanel, Mindy Kaling, Amy Poehler and Allison Williams, are all distinctive, just like each of their personalities-both on screen and off. Their collective confidence, wit and ability to stay grounded in the face of such tremendous success make them exactly the kind of women we love to feature in ELLE."
Head over to ELLE.com and check out more on the February cover stars.



I love my @ELLEmagazine cover. It made me feel glamorous & cool. And if anyone wants to see more of my body, go on thirteen dates with me.

— Mindy Kaling (@mindykaling) January 7, 2014