Millions Watch As 'American Idol' Finalists Scotty McCreery & Lauren Alaina Mess Up On Thanksgiving (Video & Parade Pics)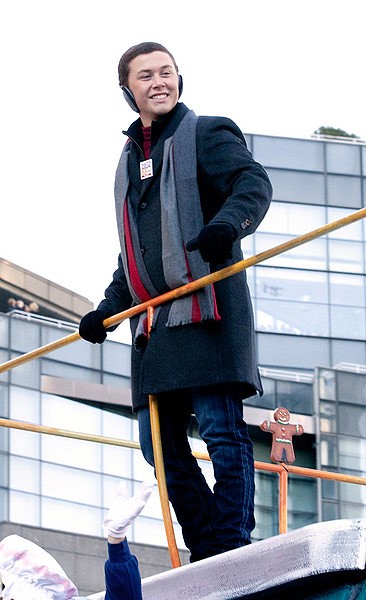 The stars were out on the streets of New York City for the 85th Annual Macy's Thanksgiving Day Parade on Thursday, including Neil Diamond (who's releasing yet another greatest hits album Dec. 6), Cee Lo Green, Avril Lavigne, Mary J. Blige and American Idol winner Scotty McCreery.
All the real stars were there too - Kermit the Frog, Mickey Mouse, Spider-Man, Spongebob and tons of other, all capped off by the arrival of the one and only Santa Claus.

Unfortunately for Scotty, though, he inadvertently let us all in on a little-known secret about the parade - he flubbed his chance to make people actually think the stars on the floats are really singing and gave away the fact that they're all really lip-synching (video below).

Things didn't go too well for Scotty's co-AI finalist Lauren Alaina, either, as she messed up the words to the National Anthem before Thursday's game between the Green Bay Packers and Detroit Lions (video below).
"I'm not a robot. I have no excuses. I messed up. You know what can ya do. At Least didn't fall down again," she tweeted afterward.
SEE MORE PICS...