Milli Vanilli Planning A Comeback With Eminem's DJ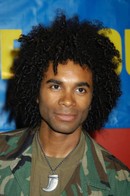 Milli Vanilli singer Fab Morvan is prepping for a career comeback with a little help from Eminem's DJ.

Morvan and his now deceased pal Rob Pilatus found international fame during the 1980s with their pop act Milli Vanilli and even won a Grammy Award for Best New Artist.

But the duo's reputation was tarnished following a lip-syncing controversy.

Now Morvan is making a return to the industry which shunned him and this time he has teamed up with Not Afraid hitmaker Eminem's right hand man, The Alchemist.

The Alchemist, real name Alan Daniel Maman, tells TMZ.com, "I'm working on a joint with Vanilli ... Vanilli's making a comeback... It's real s**t dude… Alchemist-Vanilli."