Milla Jovovich Visits 'Resident Evil' Extra In Hospital After Set Accident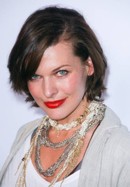 An actress who damaged her back in an accident on the set of the upcoming fifth Resident Evil movie has taken her first steps as she recovers from her injuries.

Several actors dressed as zombies and four members of the production team were hurt when a platform used for a chase sequence crashed to the ground at Canada's Cinespace Film Studios on Tuesday.

The injured were taken to local hospitals for treatment and subsequently released - except one actress, named April, who hurt her back and remained under doctors' care.

The franchise's star Milla Jovovich visited April on Tuesday night and has been keeping her Twitter followers updated on her condition - and she's revealed the actress is responding well to treatment.

In a series of posts on the social networking site, Jovovich writes, "She was out of bed and walking about 2 day which is such great news! What a strong woman, could give me some lessons!

"(Her brother) told me that the doctor hadn't seen her after the preliminary examination, which I hope is a good sign. She is on pain meds and staying in bed at the best fracture/injury hospital in [T]oronto.

"She texted me yesterday to say that she was feeling stronger and wanted to recover quickly for her family and friends! She's so amazing!"