Milla Jovovich Sizzles In Campari's 2012 'It's The End Of The World, Baby!' Calendar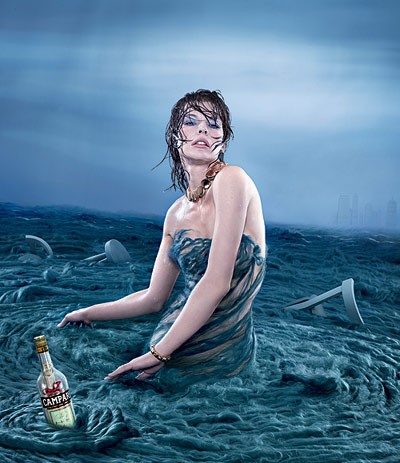 Resident Evil star Milla Jovovich is the new face of Campari. Last week the liquor company announced that the sexy model/actress was chosen for their 13th annual calendar, entitled "It's The End Of The World, Baby!" Her shoot was helmed by Parisian born photographer Dimitri Daniloff.

The theme for the 2012 calendar was inspired by the Mayan prophecy that the world will end on December 21st, 2012 because that's the last date on record in the calendar the ancient civilization created centuries ago.

We believe this prophecy almost as much as the nut who said the Rapture was coming this past May and then again on it's 'rain date' last week.

A "stunning visual voyage," Milla was shot in scenes depicting 12 different hypothetical ways the world will meet its end.

"Campari takes this opportunity to celebrate life creatively with optimism and energy, encouraging people the world over to join them in creating passionate, memorable moments to remember, by raising a glass together," reads the official press release, revealed last week in Milan, Italy.

"As a model and an actress, this was an exciting new challenge for me, combining the skills to bring to life each of the hypothetical events in a theatrical, yet sophisticated way," says Milla.

"What attracted me most to the project was the powerful inspiration behind it, as well as the positive approach of celebrating life with a special toast, with friends and family."

So just how are we going to go? Hurricanes? Volcanoes? Aliens?

Leave us a comment below and let us know what you think - but first, check out all 12 photos of Milla, from January to December, in the new Campari calendar below!


January