Miley On SNL: Raunchy VMAs Performance Caused The Downfall Of America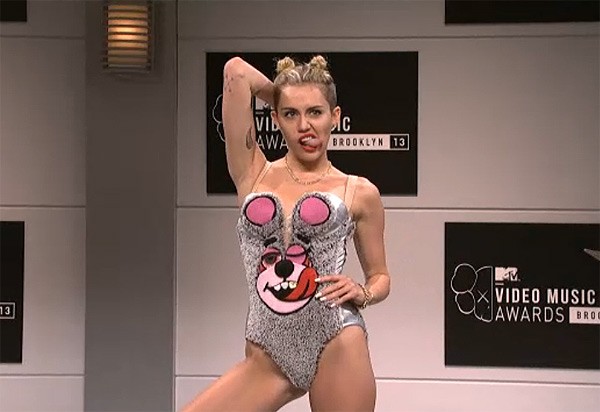 Miley Cyrus kicked things off during this weekend's episode of Saturday Night Live by taking a shot at her MTV Video Music Awards performance during the show's 'cold open' segment.

The bit began with Kenan Thompson in a post-apocalyptic not-too-distant future explaining that he remembered the exact moment when America ended. He said it wasn't the 2013 government shutdown or the implementation of Obamacare, but it was Miley's MTV VMA performance that brought the country into a new dark age.

The 20-year-old then appeared in her dressing room getting ready to take the stage, when a page asked her if she needed more time to warm up.

"I think this performance is going to be less about the singing," she says.

Shortly after, Miley gets a visitor -- her future self (played by Vanessa Bayer, who does a recurring Miley skit on the show). Future Miley expains that present Miley needs to tone things down in her planned performance. Unfortunately the advice falls on deaf ears.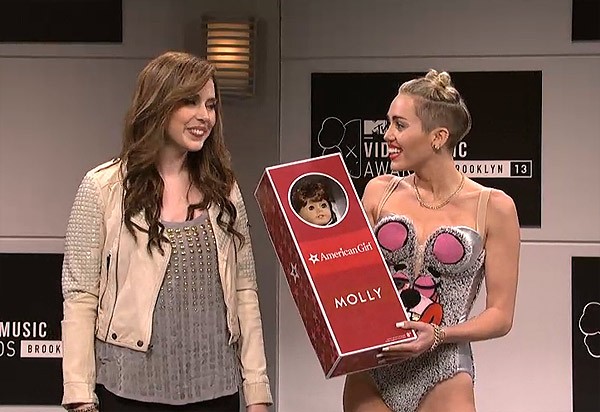 Miley took the stage shortly afterward for her opening monologue, declaring that there would be no more twerking and giving a status update on her alter ego, Hannah Montana.

"In case anyone's concerned, you should know there will be no twerking tonight," she says. "I used to think twerking was cool, but now that white people are doing it, it seems kinda lame."

Miley also said there would be no mentions of her Disney Channel character.

"There are a few subjects we're not gonna get into tonight," she told the audience. "I'm not gonna do 'Hannah Montana', but I can give you an update on what she's been up to -- she's been murdered."

Watch the hilarious opening of SNL below...