Miley Cyrus's Brother Hospitalized From Losing Blood After Tonsil Surgery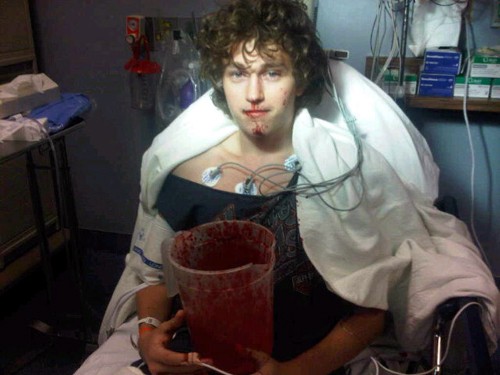 Billy Ray Cyrus' son and Miley's brother Braison Chance has opened up about his weekend hospital drama, insisting he is "all good" after suffering serious blood loss following complications from recent tonsil surgery.

Chance reveals he had his tonsils removed last week and appeared to be recovering fine until he started bleeding profusely on Saturday.
 
He was admitted to the Providence St. Joseph medical centre in California to receive treatment and was kept under doctors' care overnight before he was discharged on Sunday.
 
His dad posted a photo of the teenager in his hospital gown, holding a blood-splattered bucket on his Twitter.com blog on Sunday, but the singer failed to mention what exactly was wrong with Braison.
 
However, the youngster has now taken to his own Twitter page to address the drama, writing, "I got my tonsils out last week. Not sure what happened exactly but long story short my artery opened and I was bleed (sic) a lot. All good now."
 
Billy Ray has also tweeted his thanks to fans for their well wishes.
 
He writes, "Thank you for your continued thoughts and prayers for @Braisonwukong. He's doing better. Who said gettin your tonsils out wasn't dangerous?"