Miley Cyrus Wins $10,000 Toilet In Bizarre Bet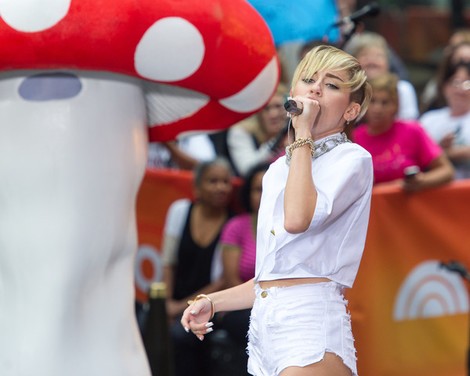 Miley Cyrus made a bet with producer Dr. Luke, who helped her with her latest single, "Wrecking Ball," and she won.
Dr. Luke didn't think the song was going to be a hit, while Cyrus did. If she proved him wrong, he would have to give her a Bluetooth-controlled toilet worth $10,000.
The provocative video was viewed a record-breaking 19.3 million times globally in its first 24 hours. The song wound up being a huge success, and she's laughing all the way to the commode.
The pop star told the New Yorker: "Contrary to what he thinks, Dr. Luke isn't always right. I bet him him that Wrecking Ball would go to No. 1 on the Billboard Hot 100 and it did. Now he has to buy me a $10,000 toilet. I'll be thinking of him every time I go."
The "Wrecking Ball" music video, which features the star completely naked swinging on a wrecking ball, has caused all kinds of commotion in the music industry. It has been spoofed by many people, including Hulk Hogan who in a one-minute clip wears a black thong and yellow feather boa and rides a wrecking ball.
When Cyrus said Sinead O'Connor's "Nothing Compares 2 You" inspired the video, the Irish singer criticized and insulted the 20-year-old in a number of open letters.
In addition, administrators at a Michigan university removed a gigantic statue of a wrecking ball from campus after dozens of students used it to copy Cyrus' infamous naked music video.