Miley Cyrus Wanted To Perform Topless During MTV VMAs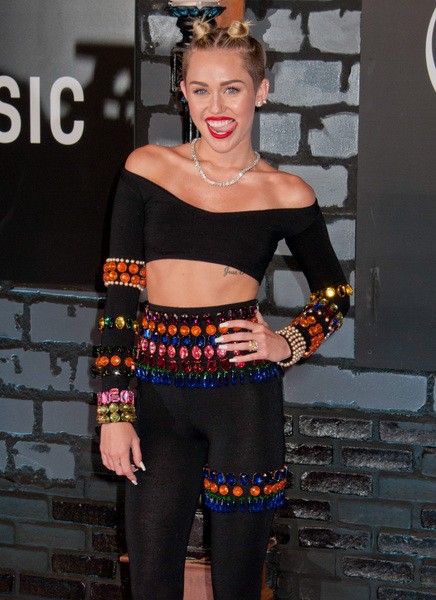 Miley Cyrus has revealed that she originally wanted her MTV Video Music Awards performance to be even racier than it was.

The singer, who caused controversy during her performance with Robin Thicke, revealed during her new hour-long special for MTV that she originally wanted to perform her single "We Can't Stop" and then with Thick on his hit "Blurred Lines" half-naked.

"Miley The Movement" debuted on Wednesday night, and in the special, which chronicled the months leading up to her VMAs performance, she told Britney Spears about her original plans.

"You're not going to be topless onstage, are you?" Spears asked.

"I tried but I don't think MTV's going to allow it," Miley replies.

The two were filmed meeting for the first time prior to recording new track "SMS (Bangerz)" for Miley's new album.

"I remember when the (Britney's) 'I'm a Slave 4 U' video came out. [My dad Billy Ray Cyrus] shook his head and was like 'My 8-year-old is going to turn into a stripper.'" Miley says to her idol. "But I wanted to be hot like Britney and that's still what girls wanna do in the pop industry."

Miley recently compared her new video for "Wrecking Ball" to Sinead O'Connor's "Nothing Compares 2 U" video, prompting the Irish singer to pen an open letter to her 20-year-old protege. O'Connor gave Miley a stern warning, saying that she'll "obscure" her talent by letting herself "be pimped, whether it's the music business or yourself doing the pimping."

Miley responded by posting a screenshot of some of O'Connor's past tweets, writing, "Before Amanda Bynes.... There was...."

Sounds like the message didn't get through.