Miley Cyrus Twerks With Santa & Lindsay Lohan Is The 'Same Old Chic' At Jingle Ball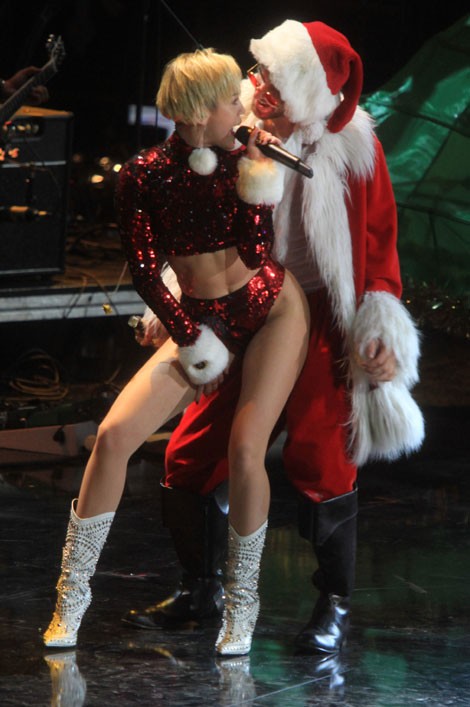 A slew of stars attended the Z100 Jingle Ball at Madison Square Garden in New York City on Friday night, including Miley Cyrus, who walked the red carpet in a white shirt and black pants. 
And the provocative singer didn't disappoint during her performance later in the evening.
The former "Hannah Montana" star showed off her figure in tiny, red sequined hot pants with a matching crop top. She also wore white furry ball earrings (matching the cuffs of her sleeves) and silver studded cowboy boots. Yeehaw!
Of course, Miley busted out her signature dance move - twerking - by grinding up her backside against Santa Clause on stage. She sang several of her hit songs, including "Party in the USA," "Don't Stop Now" and "Adore You." She also did a cover version of Lana Del rey's "Summertime Sadness."
Lindsay Lohan also turned out for the event, wearing a blouse that blared "Same Old Chic" on front. She was joined on the red carpet by stars including R. Kelly, Pitbull, Katie Holmes, Jason Derulo, Snooki, Kellan Lutz and Kelly Ripa.
Check out more photos from the Jingle Ball...