Miley Cyrus Turns In Touch's 'I Need Help' Cover Into Her Twitter Avatar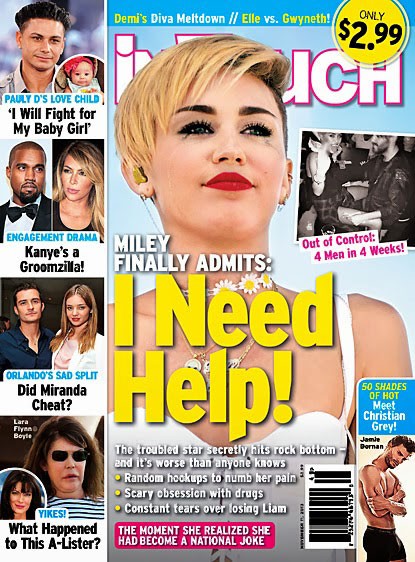 We're glad to see Miley Cyrus isn't taking things too seriously. Even though In Touch magazine seems to believe she's a "national joke," the singer/actress doesn't seem to care.
Cyrus is featured on the cover of the tabloid's latest issue, which blasts the headline "I need help!" Cyrus has also reportedly "hit rock bottom" and has turned to men and drugs in the wake of her split from actor Liam Hemsworth, according to the magazine.
In Touch goes on to say the pop star's been "out of control" and hooked up with four different men in four weeks. In actuality, the photo of the man she's featured with on the cover is her best friend and assistant Cheyne Thomas.
Turning the tables on the tabloid, Cyrus changed her Twitter avatar into the cover image, which shows her with mascara tear tracks rolling down her cheeks.
Country star Dolly Parton recently defended Cyrus, saying: "I don't think people really realize yet what a great singer and writer she really is." She added: "She's just trying to find her own place and wings and learn to fly."
Meanwhile, on Halloween Cyrus was spotted making out with Good Charlotte rocker Benji Madden at Bootsy Bellows in Hollywood.