Miley Cyrus Tops iTunes In 70 Countries, 'Bangerz' Debuts At #1 On Billboard Chart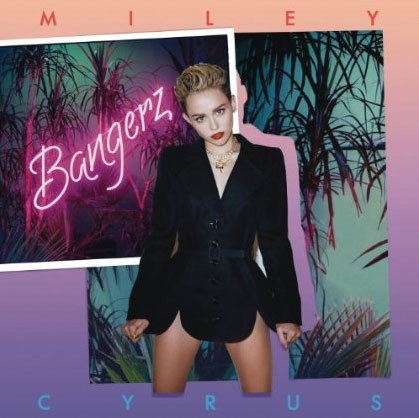 Miley Cyrus' critically acclaimed new album Bangerz (RCA Records) debuts at #1 on both the Billboard Top 200 Album chart and the Digital Album Charts with over 270k albums sold. Additionally, during release week, Bangerz hit #1 on iTunes in over 70 countries. This marks Miley's second #1 album and biggest sales week (outside of Hannah Montana properties) since 2008. Bangerz also debuted at #1 in Canada, Australia, Ireland and the UK where Miley currently has a double #1 with "Wrecking Ball" hitting the top slot on the UK singles charts. Bangerz debuted top 10 in at least a dozen other markets including New Zealand, Austria, Germany, Switzerland, Holland, Belgium, Argentina, Portugal, Sweden and more. Miley also sold 426,000 tracks from her album last week placing 14 songs on the Top 200 Digital Songs Chart.

Bangerz has been getting rave reviews including Entertainment Weekly calling it "...utterly fresh, a pop blitz from a hip-hop blueprint, and proof that Miley won't settle for just shocking us." US Weekly declared it "the year's most titillating pop explosion." And gave the album "4 stars (out of 4)"

Both singles, "Wrecking Ball" and "We Can't Stop", off Bangerz have already sold 4.3 million copies in the US alone. "Wrecking Ball" hit #1 on the Billboard Hot 100 and stayed there for two weeks. It became Miley's first Billboard Hot 100 #1 and her fastest-flying top 10 on Radio Songs. Miley reached the Radio Songs top 10 twice before, both times in 2009, with the No. 7-peaking "The Climb," which took 12 weeks to enter the region, and the No. 8 hit "Party In The U.S.A."

Miley has been on a worldwide promotional campaign to support the release of Bangerz with raved about performances, sketches and interviews on Saturday Night Live, The Today Show, Late Night With Jimmy Fallon and Ellen. NBC recently announced that Miley's double duty as host and musical performer on SNL was the highest rated show since Justin Timberlake's appearance in March.

"Wrecking Ball" also hit #1 on Spotify where it reached the highest streams ever for any track in the US beating the next highest week by nearly 500 thousand plays. This exciting news came just two days after her music video for "Wrecking Ball" became the fastest music video ever to reach CERTIFIED status, VEVO's milestone for videos delivering 100 million views in only 6 days. Cyrus shattered the previous record which she held for "We Can't Stop," which was CERTIFIED by VEVO just 37 days after it premiered.

Due to this success, VEVO will be honoring Miley's "We Can't Stop," "Wrecking Ball," "Party in the U.S.A.," "Can't Be Tamed" and "7 Things" videos for passing the 100 million milestone. They will also include new exclusive interviews with Miley where she will talk about the making of these videos, her relationship with her fans and much more. Miley's CERTIFIED campaign kicks off across VEVO later this month.

Miley Cyrus is a world renowned entertainer with record breaking success in film, television and music. She is a multiplatinum recording artist and has sold over 12 million albums and 20 million tracks in the US alone.