Miley Cyrus To Remain In Hospital For Second Night After Severe Allergic Reaction To Medication, St. Louis Show Cancelled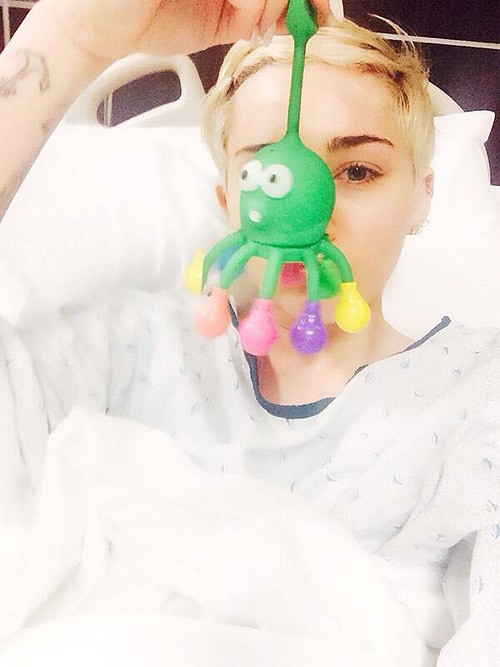 UPDATE: Doctors have decided to keep Miley in the hospital for a second straight night, meaning she'll have to cancel her Thursday night show in St. Louis, Missouri. The singer apologized to fans via Twitter.
"I can't get a hold of my team because it is so early so I want to be the one to tell my fans especially the ones trekking to get there..." she wrote on Twitter. "The hospital is sayin I won't b released today... therefore I'm not going 2 make it 2 St Louis. I'm so sorry but somethings are outta my control."
---
Miley Cyrus was forced to cancel her Tuesday night show at the Sprint Center in Kansas City, Missouri after she had a severe allergic reaction to antibiotics and had to be hospitalized.

The 21-year-old singer's latest stop on her "Bangerz" tour, at the Sprint Center in K.C., is the second concert Miley has canceled in just over a week. Last Monday night she had to cancel her show in Charlotte, North Carolina because of the flu.

According to TMZ.com, Miley was already at the arena and getting ready for her show when the sudden reaction happened; and an insider at the site said she was spotted out shopping with her mother earlier in the day.

Miley tweeted a selfie while holding a toy sea creature from her hospital bed; writing, "Mr. Octopussy & some amazing Drs are taking good care of me."

She also sent a message to fans who were anticipating her show.

"Kansas I promise I'm as heartbroken as you are. I wanted so badly 2 b there 2night," Miley tweeted out to fans. "Not being with yall (sic) makes me feel s**ttier than I already do."

"I hate this. & I hate hospitals. & I hate needles. & I hate laying in a bed bored AF (as f**k)," she added, "& I hate feeling like crap."

No word on whether or not the show will be rescheduled.