Miley Cyrus Surprises Fans With Performance At Disney Expo

Miley Cyrus
gave a surprise performance to fans at today's D23 Expo. The Ultimate Disney Fan Experience presented a line-up of their upcoming movies, including Cyrus's film
The Last Song
. Nicholas Sparks wrote the story with Cyrus in mind, and the movie got made before the book was finished.
"I just got the book today," Cyrus said. "I'm so excited to start reading it."
A Sparks fan from seeing her mother read his books like
The Notebook
, Cyrus was flattered to be involved with his latest development. "He wrote it with me in mind," she said. "Just like a song, it starts out as a draft. Seeing how it changed, [I got to embody] the metamorphosis."
Cyrus' portion of the presentation culminated with a live performance of her hit song "The Climb" from
Hannah Montana: The Movie
. She gave a full bodied, A-list performance with a full back-up band, a glittering body skirt outfit and physical routine complete with impassioned gestures. She greeted the audience's fanfare with love and blown kisses before taking her final bow.
"The Last Song" opens January 8, 2010.
- Click pic for next page -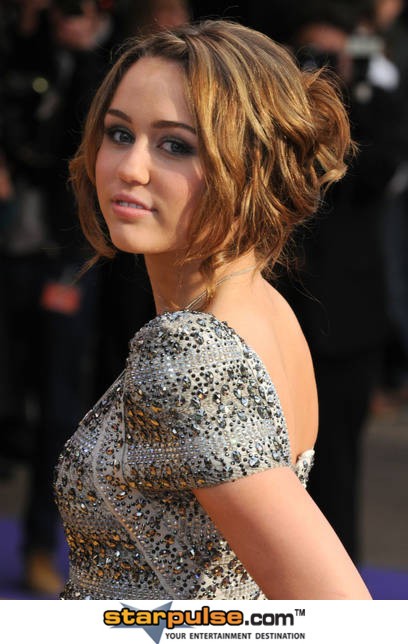 Image © Solarpix / PR Photos
Story/Interview by
Fred Topel
Starpulse contributing writer
(Starpulse in Hollywood)
: Every week, Hollywood's biggest stars are meeting in the hot spots and Starpulse is there.