Miley Cyrus Stars With Porn Star Jessie Andrews In Israeli DJ Borgore's New Video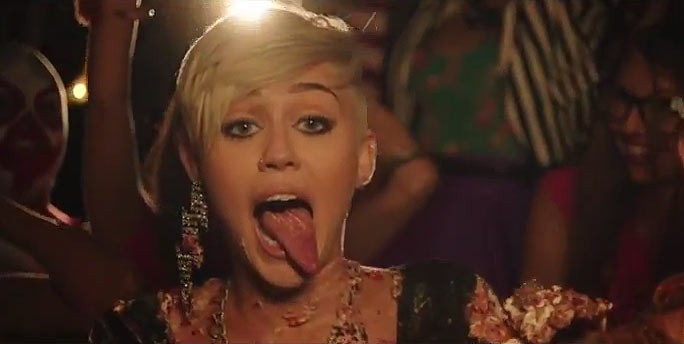 Miley Cyrus stars in Israeli dubstep DJ Borgore's latest video, "Decisions," which he collaborated on with the former Disney star.

The video for the song, which is about and also stars Borgore's ex-girlfriend -- porn star Jessie Andrews -- features a giant cake, little people, unicorns, break-dancing, goats, a woman who smashes watermelons with her boobs and... Bill Clinton? (Keep an eye out for that confectionary cameo.)

Miley, still trying to do everything she can to distance herself from her days as Hannah Montana and be a grown-up, pops out of the cake in a very revealing outfit with a deep neckline. She sings and dances with the crowd of "45 club kids" at a party filmed inside Beacher's Madhouse in Los Angeles (also one of Miley's favorite places to frequent). Miley also French kisses a guy in a unicorn mask (which is actually real-life fiance Liam Hemsworth), and gets herself covered in cake during a huge food fight.

"That sh*t was crazy, [Liam] walked into his hotel room, and it was people in the weirdest clothes you've ever seen," Miley told Rolling Stone in a recent interview. "My fiancé was dressed as a unicorn – we make out in the video, which is very funny. It's just the most random group. We walk in and we're like, 'This feels like a party,' so it's dope."

As far as Andrews goes, we assume she's really good at her other job since she won this year's Adult Video News (AVN) Award for Best Actress, according to TMZ.com. She's also modeled for photographer Terry Richardson and has her own line of jewelry called Bagatiba.

Check Out The Video Below...