Miley Cyrus Spotted Using Teleprompters During Concerts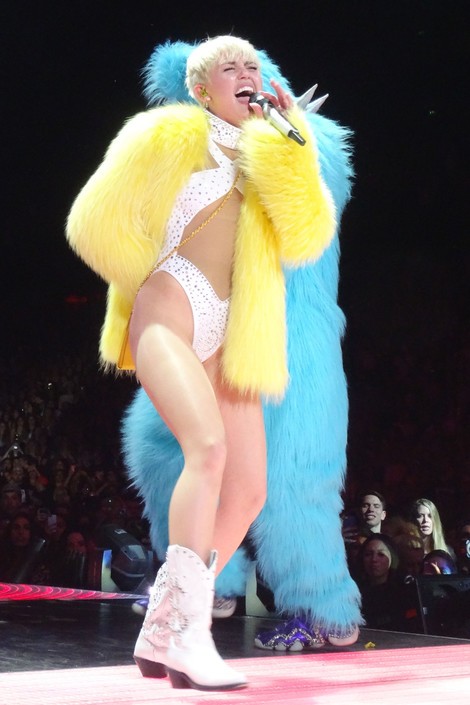 Miley Cyrus is apparently having trouble remembering her own lyrics, as the singer was spotted using a teleprompter during her concerts.

"I was at Miley's Vegas concert and took these pictures because I couldn't believe she needed a teleprompter with lyrics to all of her songs throughout the entire concert," a fan at her recent Las Vegas show told website RadarOnline.

"And it's not like they were just there for nothing — I caught her looking at them more than a few times!

"The show was entertaining, but she didn't sound great."

Miley's tour hasn't been without its fair share of controversy since it began, either. The singer has received numerous complaints over the overtly sexual themes and skimpy outfits, and last week she spotted singer Katy Perry in the front row of the crowd and motioned her to the stage, climbing down to share a kiss.

But while Miley kissed a girl and liked it, Katy pulled back when the "Wrecking Ball" singer tried to slip her the tongue.

"God knows where that tongue has been," Katy said during an Australian morning show on Tuesday. "We don't know! That tongue is so infamous!"


BUSTED: #Miley's using a teleprompter during #Bangerz Tour to remind her of her own lyrics! http://t.co/rpcVc53rEt pic.twitter.com/CSYrcfGlBj

— Radar Online (@radar_online) March 4, 2014