Miley Cyrus Spotted Smoking Mysterious Substance And Giggling On A Hotel Balcony In Miami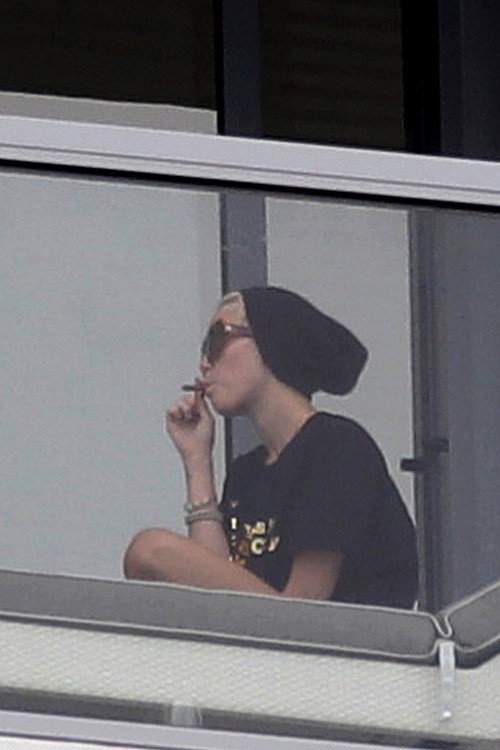 Miley Cyrus was spotted on Saturday relaxing on the balcony of her Miami hotel smoking a suspicious looking cigarette. The 20-year-old star also wasn't wearing her engagement ring, which is sure to spark more rumors that she and long time boyfriend Liam Hemsworth are done.

Miley recently collaborated with Snoop Dogg (under new name Snoop Lion) on his latest single, "Ashtrays And Heartbreaks," singing the lyric, "Now my buzz is gone / I need to re-up on reality."

Looks like she was re-upping on that reality on that Miami balcony.

The former Hannah Montana star was seen giggling with friends while smoking and also exposed her backside while hanging out on the balcony. She appeared to be wearing no underwear with a long t-shirt (photo on page 2).

Last month Miley was also spotted without her engagement ring while Liam had returned to his native Australia to spend time with his family. She said that the ring was being repaired at the time she was photographed without it, and even addressed rumors of a split on Twitter.

"I didn't call off my wedding," she wrote.

She even added to her collection of body art during the couple's downtime, having celebrity tattoo artist Kat Von D ink a pair of hearts on her arm.