Miley Cyrus Smokes A Joint On Stage At MTV European Music Awards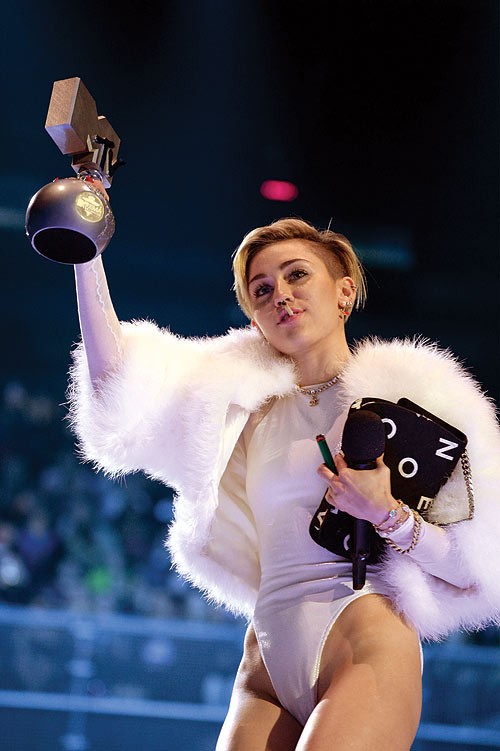 Miley Cyrus is set to make headlines again after her appearance at the 2013 MTV European Music Awards ceremony Sunday night.

The singer, who caused controversy back in August when she joined Robin Thicke for a performance of his single "Blurred Lines" at the MTV Video Music Awards, brought her trademark twerking to the stage at Amsterdam's Ziggo Dome. But this time it wasn't her modest outfit that everyone's talking about.

Miley kicked off the night with a performance of her hit single "We Can't Stop" with some help from a little person dressed in black bondage gear. Miley grabbed her co-star's breast and slapped her on the bottom at one point, shocking the crowd while they danced and twerked before a group of aliens joined them.

And, of course, her tongue made an appearance.

Later in the show Miley took the stage again for a more scantily-clad performance of single "Wrecking Ball," for which she won the Best Video EMA.

During her award acceptance, Miley put her trophy down and pulled what appeared to be a joint out of her handbag and lit it onstage.

"I couldn't fit this award in my bag," she said, "but I did find this."

The stuff is legal in the city, and Miley's made it pretty clear that she's a big fan of smoking pot. She was even spotted over the last few days hitting up Amsterdam's best coffee shops -- which allow smoking cannibis -- with the likes of British model Cara Delevingne and rapper Snoop Dogg.

See pics of Miley getting stoned on stage at MTV.com.