Miley Cyrus' Side-Boob Steals Red Carpet Show At EMAs (Video)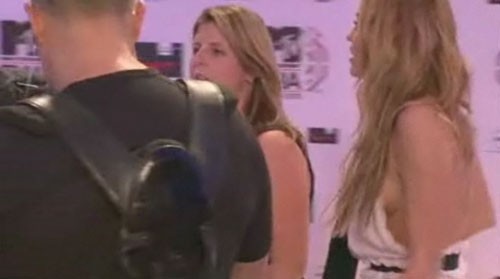 There were plenty of dazzling outfits on the red carpet before the MTV European Music Awards, but Miley Cyrus' white top with pseudo-tie stole the show - thanks to the amount of side-boob that was showing!
Miley already made headlines during her trip in Europe for having a few beers in Madrid, which drew the ire of the International Institute for Alcohol Awareness. However, we think that will be quickly forgotten once everyone gets an eyeful of Miley Cyrus' risque dress.
The star, who turns 18 November 23, appeared in a backless white dress. The dress as loose enough on the sides that it flowed freely and gave cameras and red carpet revelers an eyeful! 
Other notable outfits include Eva Longoria's "Spanish Ham" costume, Rihanna's dazzling frock, Shakira in a tight and sparkling number, and Katy Perry's red dress made up as a "Admit One" ticket.
What do you think of Miley's revealing dress?