Miley Cyrus Shows Off Her Latest Tattoo From Kat Von D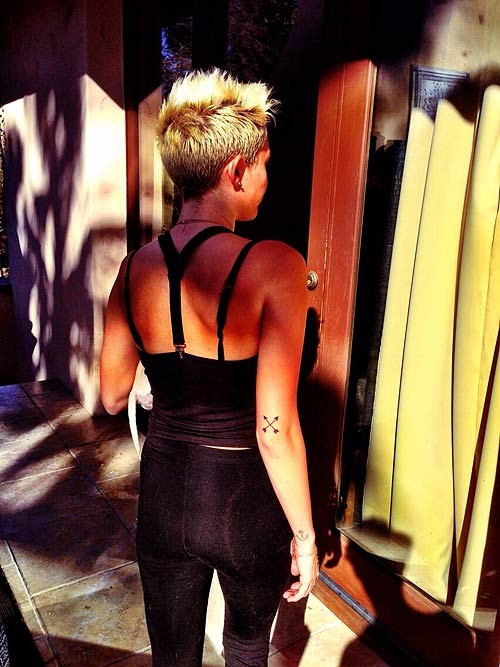 Miley Cyrus sure likes needles. The former Hannah Montana recently added another new tattoo to her bodily canvas, this one a simple pair of crossed arrows drawn on by Kat Von D.

The singer/actress shared a photo on her twitter page Friday with the caption, "ratta tat tat."

Kat Von D also posted about the ink sesh, posting a close-up to her Instagram and writing, "Loved tattooing @MileyCyrus yestrday (sic)! Simple symbols of friendship make beautiful tattoos."

At last count Miley had 15 tats -- this being her 16th -- including a dream catcher on her ribcage, small tattoos on each of her fingers, and a quote from Winston Churchill.

Miley also tweeted that she's thrilled with her new photo shoot for Cosmopolitan magazine and has even asked fans to rearrange newsstand shelves when they see it.

"Love these pics! Can't wait till Cosmo is everywhere! Keeping putting my issue front and center b****essss!!!!" she wrote.

Von D did Miley's new art at her High Voltage Tattoo studio in Los Angeles on Wednesday.