Miley Cyrus Shares Topless Tattoo Photos Paying Tribute To Deceased Dog Floyd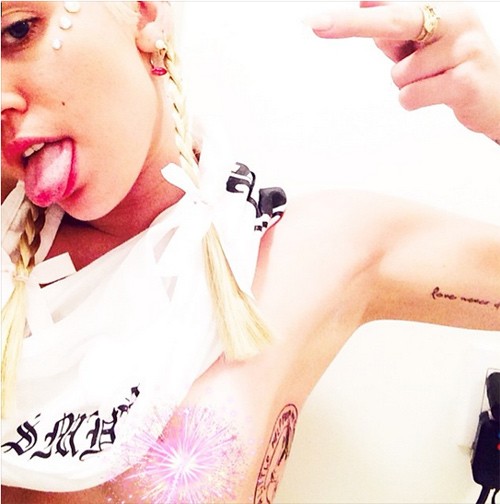 Miley Cyrus has posed topless on her Instagram account, but this time it is in honor of her deceased dog Floyd. Floyd was a part of Cyrus' life from 2011 until this past April when he was killed by a coyote.  Cyrus told her Twitter followers the sad news of his passing on April 1.  
In mid-April, the singer's mother Tish tried to heal her wounds with a new pet by the name of Moonie. Unfortunately, Cyrus was not yet ready to take a new dog into her heart and home, so she gave little Moonie away.
Now that she has adopted a new puppy Emu, Cyrus has paid homage to her former friend in various ways.  First, while on her "Bangerz" tour Cyrus had a giant inflated Floyd blow-up dog on stage with her.  She also made a shrine to Floyd with pictures and stuffed Floyd dogs. Now she has opted to mark him permanently on her body -- with friends, including Flaming Lips frontman Wayne Coyne.
Cyrus shared the below photos on Instagram showing the new ink, which is a picture of Floyd and the words: "With a little help from my fwends."
A closeup shot of the tattoo:
During her "Bangerz" concert special on NBC on Sunday, the singer said of Floyd, "I have to not make myself sick over it because that's what I did at first.  I loved him so much.  I really shut down more than I've ever let myself."
She added, "I still talk about him like he's here.  So I haven't really accepted it fully.  I think if I do that then he might actually like, go at some point.  Which I don't really want."