Miley Cyrus Says She And Robin Thicke Made History With Racy VMAs Dance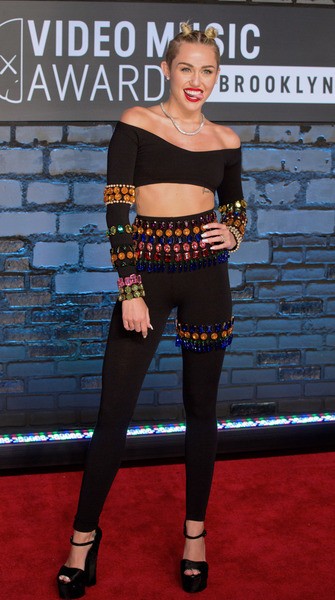 Miley Cyrus has dismissed the controversy surrounding her raunchy dance routine at the MTV Video Music Awards last week, insisting she made history with the performance.
The former "Hannah Montana" star shocked fans after she wore a skin-tight flesh-colored bikini and danced suggestively against Robin Thicke while singing his popular hit "Blurred Lines." She also made some provocative motions with a foam finger.
A few days after the event, she told MTV that she ignores the criticism: "I don't pay attention to the negative because I've seen this play out so many times. How many times have we seen this play out in pop music?"
Cyrus also pointed out previous VMAs performances that were laced with innuendo. "Madonna's done it. Britney's done it. Every VMA performance, that's what you're looking for; you're wanting to make history... Me and Robin the whole time said, 'You know we're about to make history right now,'" she explained.
 
"What's amazing is I think now, we're three days later and people are still talking about it. They're over-thinking it. You're thinking about it more than I thought about it when I did it. Like, I didn't even think about it 'cause that's just me!"
Thicke, meanwhile, hasn't spoken up about the history making moment. He was, however, caught up in a mini photo scandal last week after a fan uploaded a pic online showing the singer grabbing her butt.