Miley Cyrus Rolls A Joint, Shows Off 'Bad Kitty' Lip Tattoo On Instagram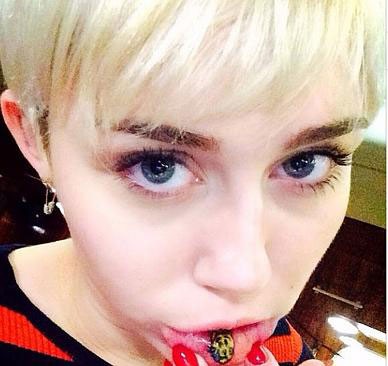 Miley Cyrus is pictured rolling what appears to be a marijuana joint in a new photo on Instagram. A male friend posted a photo of the singer in which she puts what appears to be weed into cigarette paper while in a recording studio in Tulsa, Oklahoma.
Her friend captioned the image: "Yup...... Recordin with Miley... High as f**k..."
In 2013, Cyrus made headlines after she lit up a joint on stage at the MTV Europe Music Awards in Amsterdam, Holland, where marijuana is legal.
The singer appeared to have a wild time while in Tulsa - she also got some new ink in interesting area.
She showed off her new lip tattoo on Instagram on Friday. The image shows the pop star pulling down her lower lip to reveal a yellow and black cat, which she called "sad kitty."
Her friend - who went with Cyrus to the tattoo parlor - wrote on her own page, "We got tattoos on our lips... What the f**k."
That had to hurt.