Miley Cyrus Rocks Thigh-High Boots & Hot Pants On 'Jimmy Kimmel'; Talks About Getting High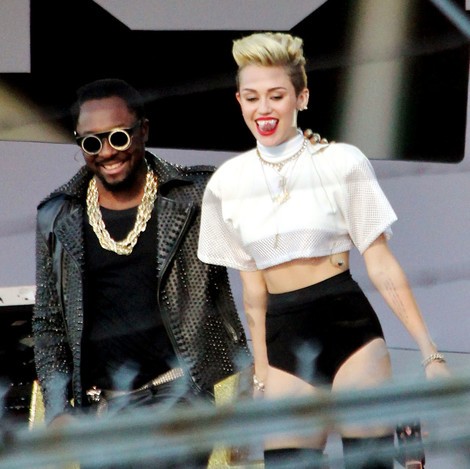 During Monday night's outdoor performance of her new song "We Can't Stop" on "Jimmy Kimmel Live," Miley Cyrus thrilled fans while rocking a pair of thigh-high boots, black hot pants and a sporty jacket.

The singer/actress gyrated with several female dancers as she strutted around the stage and was later joined by Black Eyed Peas star Will.I.Am for the track "Fall Down."
During an interview with Kimmel, Cyrus discussed the song "Ashtrays and Heartbreaks," which she recorded with Snoop Lion, formerly Snoop Dogg. She said of the rapper: "We're more alike than you think ... we're very similar."
When Kimmell joked about Snoop being "so high" he can't remember his name, Cyrus quipped: "Me too, so it's fine! We both are. That's why we get along so well, I guess."
On her way into the television studio she wore tiny shorts and a Tupac Shakur t-shirt.
Watch the video and check out more photos on the following pages...