Miley Cyrus Returns To The Stage Following Bout Of Laryngitis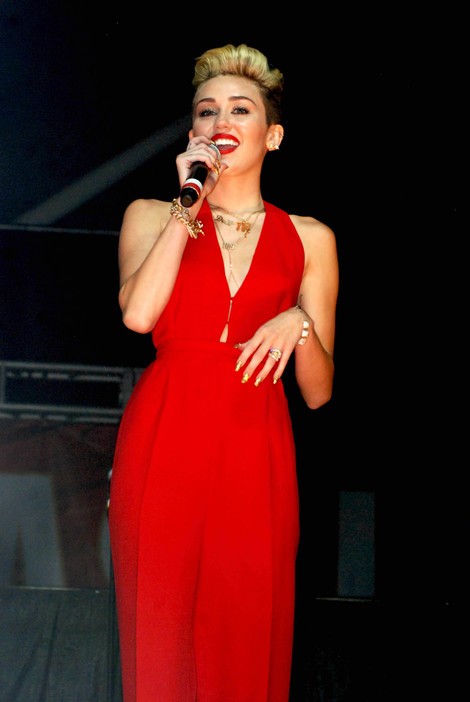 Miley Cyrus quickly filled her schedule once she recovered from a devastating laryngitis illness.
After canceling an appearance on Australia's X Factor, the pop star appeared to be in complete anguish. She tweeted to her fans, "Can't move my neck. Can't breathe. Can't barely speak... Sick in bed. Neck, belly, throat, head..... It all hurts."
By Tuesday, however, Cyrus seemed to be back to her normal self. She performed on Jimmy Kimmel last night in Hollywood, and then jetted over to New York to sing on "Good Morning America" earlier today. She sang "We Can't Stop" and "Fall Down."
Cyrus revealed that she was actually nervous about her GMA performance, saying, "This is the most nervous I've ever been actually for a performance because, one, I haven't slept, I've been up all night on a plane getting here, and, two, I've been really sick! I didn't even know if I was going to make it, so now that it's just done, it's kind of insane." 
Cyrus also told "Live with Kelly and Michael" that vitamins and rest helped her recover from the illness. "As a singer, it's the scariest thing in the world when you know there's nothing you can do if you're sick, you have no control, and I'm a control freak... so I was really stressed out because I was on vocal rest and then I woke up and I couldn't move my neck for some reason... It is the worst!
"I woke up feeling, like, 95... but I've had an amazing recovery. I got vitamins and all that. It's amazing when you start taking care of your body, how quick it'll get back (to normal)."