Miley Cyrus Responds To Joe Jonas' Pot Remarks, French Kisses Cara Delevingne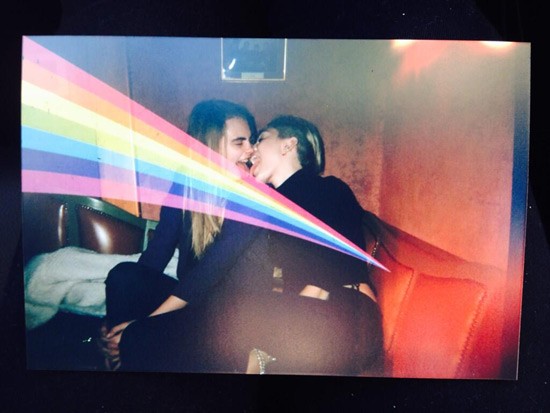 It's been a busy holiday week for Miley Cyrus. The singer posted a photo the day after Christmas of herself sitting on a couch and french kissing Victoria's Secret model Cara Delevingne.
"LOVE!!!!!We finally got the filmed developed Mush," she captioned the image.
The two have been pals for some time. Last month they were spotted hanging out together at an Amsterdam coffee shop.
Meanwhile, Cyrus' new music video "Adore You" leaked online earlier than it's expected Dec. 26 release. She's featured writhing around a bed in lingerie and at one point puts her hand down her underwear.
Cyrus also responded to fellow singer Joe Jonas' comments that she and Demi Lovato introduced him to marijuana.
Cyrus told the New York Times: "If you want to smoke weed, you're going to smoke weed. There's nothing that two little girls are going to get you to do that you don't want to do. I thought maybe he was saying that like it was going to make him look badass."

She also pointed out that Jonas is three years older than her. "We were so young that it's actually like, 'How did you get peer pressured by me?'"