Miley Cyrus Responds To Amanda Bynes Calling Her 'Ugly,' Says She Had Been 'Rooting For Her Comeback'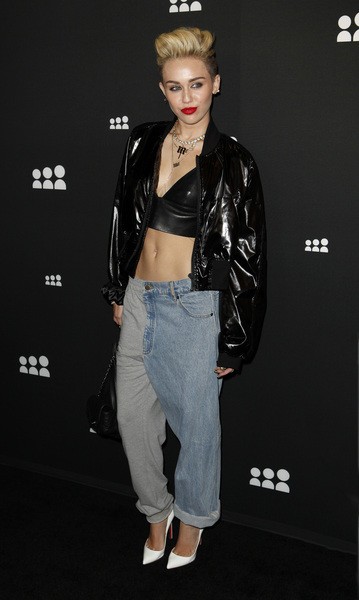 Amanda Bynes has been making a spectacle of herself these days, calling out other celebrities on Twitter and exhibiting bizarre behavior. Her latest target? Miley Cyrus.
Bynes tweeted on Tuesday: "Ur ugly @mileycyrus." She included a photo of Cyrus at the recent Billboard Music Awards.
A week ago, Bynes also posted a little something about Miley's fiance: "Liam Helmsworth (sic) is the most gorgeous man on the face of the earth other than Tanz Watson. FYi!"
Some have wondered whether Bynes' latest tweet is a publicity stunt. Or perhaps she's jealous of the former "Hannah Montana" star who has successfully transitioned from being a Disney star to a big-screen actress and musician.
Others believe Bynes may be having a mental breakdown.
In response to the tweet, Cyrus told Hot 99.5 FM, "I think it's all so sad, and I don't want to add any fuel to that fire...I was rooting for her comeback until she started attacking me. I just thought it was hilarious that she mentioned my name the moment I was the worldwide trending topic on Twitter."
Cyrus isn't the only recipient of Bynes' odd tweets. She has also attacked stars such as Lance Bass, Rihanna, and Courtney Love on Twitter. She also bashed her own father.
Meanwhile, Byne's former co-star Drake Bell claims there's nothing wrong with her. He recently told OK! magazine:
"Amanda and I are close... I talk to her every day. She's a sweetheart. I had lunch with her yesterday, and she's brilliant. She's good, and she's healthy... She's in a place right now where she is searching. She's ready to be her own person, and do her own thing... She is a girl who is finding herself."
Early this morning, Bynes tweeted: "For those asking, I'm voicing my opinion. I've been asked if I do drugs, I don't do drugs for the last time!"
She also wrote about her former crush Drake: "I won't marry @drake because I want to marry a gorgeous man! Sorry ur ugly @drake but I have dated ugly guys before so you stand a chance!!!"