Miley Cyrus Refuses To Listen To '70-Year-Old Jewish' Record Executives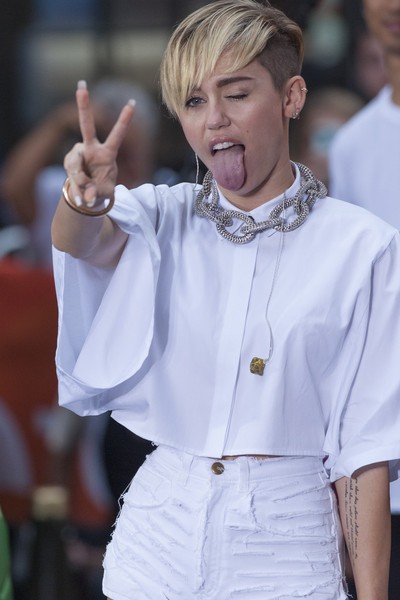 Miley Cyrus has been making people talk. It doesn't matter if you like her racy performances and photo shoots or not - she's a marketing genius.
The former "Hannah Montana" star's controversial behavior even has people such as Hulk Hogan spoof her music video.
The actress-turned-singer, 20, recently told Hunger TV that music executives weren't exactly thrilled with her new direction - from squeaky clean child star to provocative pop star.
When she told them she wanted to swing naked on a wrecking ball in her latest video, "Wrecking Ball," they were skeptical.
She explained: "At first on paper that video sounded insane, no one understood it, and I'm just like, 'Let me film it and then if it doesn't work out, you never have to trust me again, but if it works out, you have to let me drive this ship. 'You know I'm onto something.' And then they call me and they're like 'Yo, you're onto something!'"
Cyrus found herself butting heads with people in the industry.
"It can't be like this 70-year-old Jewish man that doesn't leave his desk all day, telling me what the clubs want to hear," she explained. "I've got to be the one doing it because they're just not in on what 20-year-olds are doing."
Meanwhile, Nelly recently compared her to Madonna. He told the Daily Star newspaper: "Miley's a great talent. She's young and ambitious and wants to do it her way. Madonna did it her way, and she became one of the greatest female entertainers of all time."
Time will tell if Cyrus has enough star power to last 30 years from now. Regardless, she seems to be doing things her way.