Miley Cyrus Quickly Dispels Rumors Of Relationship Trouble After Getting Close With Assistant Cheyne Thomas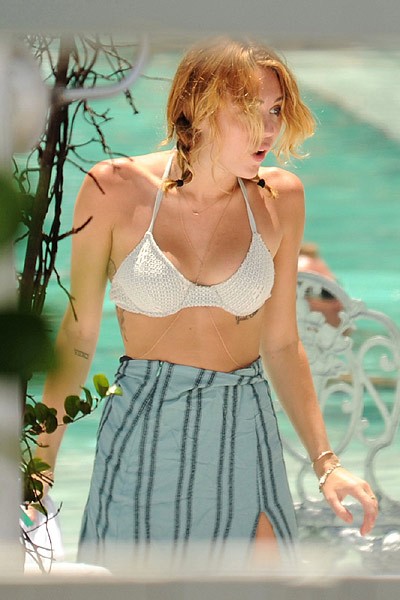 Newly engaged Miley Cyrus was spotted hanging out by the pool at the Delano Hotel in Miami Wednesday afternoon with longtime friend and assistant Cheyne Thomas.
Naturally, the rumors started pouring out of every media outlet that the 19-year-old singer might be having second thoughts about fiance Liam Hemsworth; but she cleared all of that up via some angry comments on her Twitter page.

"[s]o now because I am engaged I can't have a friend of the opposite sex? can't have a friend help me out while I'm working alllll day?" she tweeted.

Miley's mom, Tish, even chimed in; saying, "So sad that the nasty tabloids have to make up stories to sell their trashy mags. Cant they just leave these 2 alone and let them be happy?"

According to UsMagazine.com, Miley stopped briefly in Louisiana before heading off to Miami so she could visit Liam on the set of his new film Empire State, which he'll be starring in alongside Nikki Reed and Emma Roberts.

Meanwhile, Liam's high school sweetheart, Laura Griffin, told Celebuzz.com that she still cares for The Hunger Games star and was a little surprised to hear of his engagement to Miley.

"Hearing your high school sweetheart, who is the same age as you, is getting married is a shock," she says.

"Of course it hurts seeing someone I spent so many years with moving on, especially when I learned from the media."

Liam and Miley began dating in 2008 after meeting on the set of their film The Last Song and then broke up a year later. The couple reconciled in April 2011 and were engaged last month.

"I love my fiance and he loves me," Miley tweeted on Wednesday. "All the rest is bulls--t. We get to live a life of happiness no one can take that away from us!"