Miley Cyrus Promotes Marijuana Use With Justin Bieber 'Reefer Fever' Shirt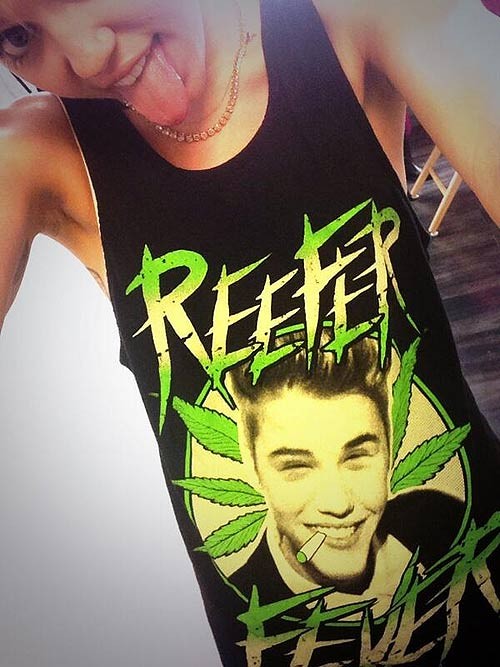 Miley Cyrus posted a photo of herself wearing a Justin Bieber t-shirt with an image of the pop star smoking a joint and the word's "Reefer Fever" on it -- an apparent take on "Bieber Fever".

"@justinbieber FO LIFE," she wrote.

Miley doesn't exactly hide her love for the substance lately, telling Rolling Stone magazine, "I think weed is the best drug on earth. One time I smoked a joint with peyote in it, and I saw a wolf howling at the moon."

The shirt Miley wore was a new offering from Boston-based post-hardcore band Ice Nine Kills, and the image quickly went viral (you can buy the shirt at the band's MerchNow store here).

"It's cool to know that Miley can get down with the heavy side of the music world too," vocalist Spencer Charnas said about her wearing his band's shirt. "Twerking and breakdowns could be the next thing haha."

Bieber, who has kept a lower profile when it comes to smoking Mary Jane, was photographed at a party over the weekend with what looked like a joint in an image obtained by TMZ.com. He was sitting next to a girl bearing a striking resemblance to Nickelodeon star Ariana Grande, however reps for both stars deny it's her in the photo.
Miley's highly anticipated new album, "Bangerz" arrives on Tuesday.